Flash flood watch continues across parts of Greater Houston area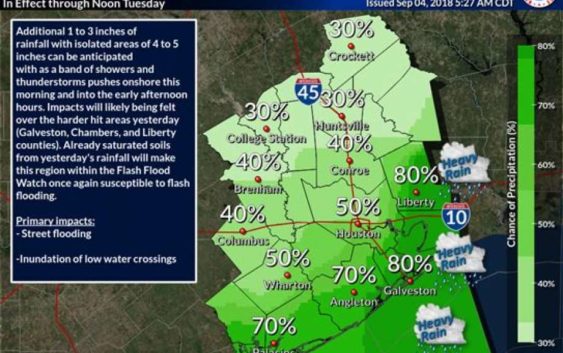 View The
Original Article Here
Photo: National Weather Service Houston/Galveston
After a weekend of heavy rain, a flash flood watch will continue through noon today for some of the Greater Houston area.
Matagorda, Brazoria, Galveston, Chambers and some of southern Harris and Liberty counties will be under the watch as showers and thunderstorms push west across the northern Gulf of Mexico, meteorologists say.
About 1 to 3 inches of rainfall are expected, although some areas could get up to 5 inches, according to the National Weather Service.
Galveston, Chambers and Liberty counties were hit hardest on Monday and are expected to see more flash flooding today, meteorologists say.
Galveston recorded 6 to 10 inches of rain in some places on Monday, city officials said.
Monday's rainfall saturated the soil, making the region susceptible to more flooding today. Street flooding and inundation of low water crossings are expected.
Meteorologists are also keeping an eye on Tropical Storm Gordon, which is currently sitting west of Florida in the Gulf. It's forecast to move west-northwest toward southeastern Louisiana and southern Mississippi, according to the weather office. No threat is expected in Texas at this time.