NWS monitoring potential tropical storm developing in Gulf of Mexico that could hit Texas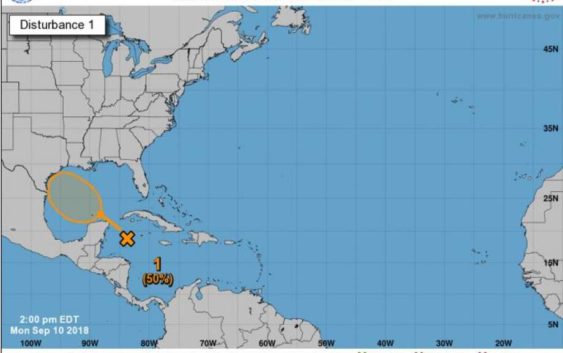 View The
Original Article Here
Photo: National Weather Service
National Weather Service meteorologists said Monday that there's a 50 percent chance a system they are monitoring in the Gulf of Mexico may develop into something more serious.
Meteorologist Melissa Huffman said because it's early on in the system's development, forecast models are split on the chances of a tropical cyclone's development.
"If it does develop, there could be impacts on the Texas coast," Huffman said.
RELATED: NWS extends flash flood watch for Bexar County, as soaked soil increases flooding chances
Texas Gov. Greg Abbott announced he is taking precautions in light of the news, increasing the Texas State Operations Center readiness level to Level III. The change allows requests for emergency aid and increases coordination activities.
"We are closely monitoring a tropical system expected to approach the Gulf of Mexico and potentially impact the Texas coast in the coming days," Abbott said in a statement. "In light of recent heavy rainfall across the state, we are on high-alert as any additional rain could quickly create dangerous flash flooding conditions. I urge all Texans to take precautions and review their emergency plans now to prepare for any potential impact to their community."
Even if a storm doesn't develop, Huffman said, the region would still be looking at a chances of heavy rain as the moisture from that system makes landfall, which won't happen until at least the weekend, the forecast showed.
Regardless, Texans should keep a close eye on any storms developing in the gulf during hurricane season.
"We want to make sure people are thinking about potential issues that come up here closer to home," Huffman said.
San Antonio saw steady rainfall last weekend, and more rain is expected throughout the week.
Fares Sabawi covers crime in San Antonio and Bexar County for mySA.com. Read more of his stories here. | fsabawi@mysa.com | Twitter: @FaresInSA