How to prepare your house for Hurricane Florence: Tips from people who blow up houses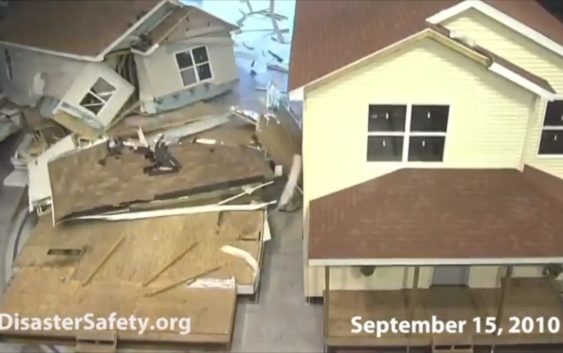 View The
Original Article Here
Take it from the folks who blow up homes for a living, there are some common-sense steps to take now that will help prepare yourself and your home for the approaching storm.
Hurricane Florence is expected to strike land and begin lumbering westward sometime Saturday morning, bringing a combination of torrential rains and gale-force winds to the Charlotte area. Duke Energy estimates up to 3 million of its customers in the Carolinas could be without power.
The Charlotte area is expected to see top sustained winds of around 40 mph, strong enough to cause limbs to snap and cause moving vehicles to swerve, according to the widely used Beaufort Wind Chart. Given that forecasters are predicting up to 10 inches of rain, the gusts will be more than powerful enough to bring down trees, experts say.
"Hurricane Florence won't just be inconvenient, it will be a potentially life-changing event for some customers," said Duke spokeswoman Meghan Miles. "So it is imperative to prepare now."
How?
Susan Millerick, director of public affairs for the Insurance Institute for Business and Home Safety, has some suggestions. Her group operates a massive wind tunnel in its Chester County research center that destroys homes and other buildings, with the goal of learning how to build them more safely.
Her overarching advice: Even the diminished Florence expected to plow into the Charlotte region must be taken seriously.
"The Carolinas have not seen a hurricane of this size in a very long time," Millerick said, after a Wednesday visit to her group's research facility in Richburg, S.C.
"During that period a huge number of people have moved to the Carolinas, and they may not have experienced anything like what this is going to be."
Here's what she suggests:
▪ Take a good, long look at your home. If there's anything not moored down, move it inside. Wind gusts can turn a backyard grill into a battering ram that can damage your home or come crashing through a low window.
▪ Under the right conditions, innocent items such as toys, potted plants or bird feeders can become projectiles. Remove them until the storm passes. Also, scour your property for loose or weak fencing, and remove any leftover boards or other construction materials.
▪ Strip down your porches, patios and pool decks. Don't lower your deck umbrella, take it down entirely and put it away. Chuck your pool furniture into the pool — it's safer there, Millerick says.
▪ Before the rain starts, check your gutters and drain spouts for debris, and make sure the spouts are pointed away from your home. They have a lot of water to move.
▪ On your home inspection, look for openings around windows and doors that need caulking. If you have low-lying basements or other living areas, roll up and remove area rugs. If possible, move basement washing machines and other appliances above the known high-water lines.
Don't be too selective, Millerick advises.
"Everything in high water or high winds can be a risk to your life if you don't take it seriously," she says.
About those generators
Given that up to three-quarters of Duke Energy customers in the Carolinas could be cut off from power in the coming days, Duke University professor John Freiberger offers these tips in a university press release for those who might be using gasoline-powered generators for the first time.
First thing to know: they can kill you.
"Carbon monoxide is both deadly and treacherous," said Freiberger, an associate professor of anesthesiology at the Duke medical school. "Unfortunately, you really don't know how rapidly you are going to be incapacitated."
His advice: Keep generators out of your house and garage, and off your porch. Always place them in a well-ventilated outdoor area. Don't run them at all when you're sleeping.
And if you're worried about them being stolen or damaged by the rain, turn them off and bring them inside.
"Carbon monoxide goes through walls. It penetrates sheet rock very, very easily," Freiberger says. "Having a generator in a garage or on the porch or in another room of hour house is absolutely no protection.
"It can be deadly, and it can kill many people at one time."
Michael Gordon: 704-358-5095; @MikeGordonOBS