Hurricane Florence: Here are the top things you need to know Thursday in the Triangle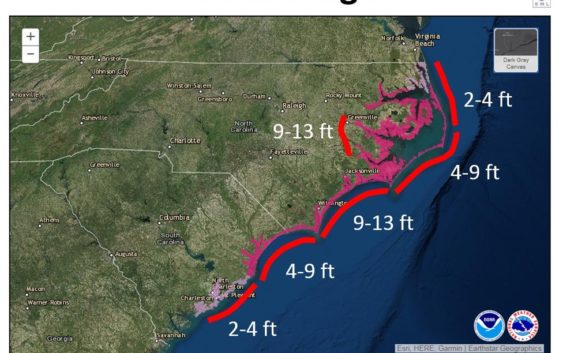 View The
Original Article Here
The Triangle will soon feel the impact of Hurricane Florence, despite its diminishing strength.
This is the most important information you need to know on Thursday, the day before Hurricane Florence hits the Triangle:
1. Hurricane Florence began to affect North Carolina's coast Thursday morning.
The outer bands of Hurricane Florence began to hit North Carolina's coast Thursday just before 6 a.m. Between Wednesday and Thursday, the hurricane downgraded from a Category 3 to a Category 2. The hurricane will continue to move west and southwest, with the "cone of uncertainty" encompassing much of North Carolina and South Carolina.
2. Wind and rain in the Triangle will pick up Thursday night.
The Triangle will feel tropical force winds, between 39 to 73 mph, as early as Thursday night. Such winds will be able to knock down trees and lift loose objects in the yard.
By early Friday, Florence is expected to be a Category 1 when it makes landfall anywhere between Wilmington and the Cape Fear region, according to ABC 11.
Florence is threatening to bring storm surge on the coast and torrential rain in the Triangle Friday throughout the weekend, despite the storm losing strength.
The Triangle will get between 3 to 10 inches of rain.
ABC 11 meteorologist Don Schwenneker tells us people should hunker down Friday morning.
3. Shelters in the Triangle are open.
While Wake County's three emergency shelters were full Wednesday, officials opened three more mid-day Thursday.
Shelters will open at 1 p.m. at Heritage High School, 1150 Forestville Road, Wake Forest; 2:30 p.m. at Middle Creek High School, 123 Middle Creek Park Ave., Apex; and 4 p.m. at Sanderson High School, 5500 Dixon Drive, Raleigh.
The Heritage shelter is pet friendly. Wake County says pet owners should bring all the items they need for their pet's care, including crates, leashes, pet food, cat litter and pans.
Here's a list of the open shelters in Chatham, Durham, Johnston, Orange counties.
The best time to go to a shelter is before the storm hits.
4. Some restaurants in the Triangle will be open during the storm.
Several eateries around Durham and Raleigh plan to stay open, while some coffee shops plan to close early Thursday.
Here's our list of places where you'll find prepared food during the storm.
5. Some airlines at RDU have canceled flights.
Some airlines have only announced cancellations in and out of RDU for Thursday, while some have canceled flights Thursday and Friday. You can find our latest information on canceled flights here.
6. Raleigh residents are moving to higher ground.
Raleigh city officials have asked more than 26,000 Raleigh residents to move to higher ground ahead of the storm, especially residents who live north of Crabtree Creek and south of Walnut Creek. The city is opening four parking decks for free between noon Thursday and 8 a.m. Monday for residents worried about their cars flooding.
7. It's probably a little late to prepare your trees for the hurricane.
But, here's our guide on what not to do to your trees before the storm, the conditions in which trees are most likely to fall and how to handle fallen trees after the storm.
8. Know what spots in the Triangle typically flood.
Here's a list of all the areas in Apex, Chapel Hill, Durham, Holly Springs, Raleigh, Wake Forest and Mooresville that typically flood (The list includes interactive maps of the flood-prone areas in most of those cities and towns). Near Crabtree Creek, the Southern States car dealership, the pawn shop Capital Cash and Brown's Clock Shop have all moved their inventory to higher ground.
9. Eight McClatchy newsrooms across North and South Carolina are covering Hurricane Florence around-the-clock.
In addition to The News & Observer, our sister papers in the Carolinas have sent reporters and visual journalists to the coast to give you live updates on the storm. Here's a list of all their Twitter handles, plus the link to their live updates of Hurricane Florence on the coast.
10. Ask CuriousNC.
We're trying to answer your Hurricane Florence questions at CuriousNC. Ask them using the link at the end of this story.