McMaster warns of flood dangers in SC after Hurricane Florence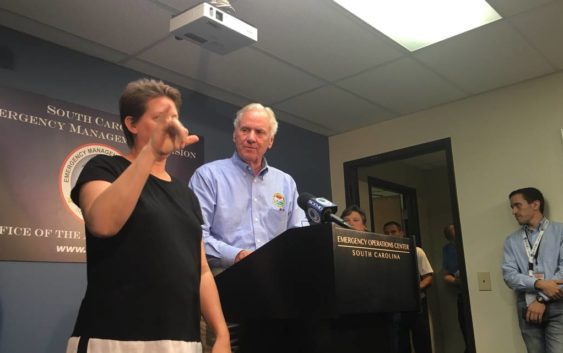 View The
Original Article Here
The entire state of South Carolina is set to get washed with rain, flooding homes that were flooded during the historic 1,000-year flood in 2015, state officials said on Friday.
"We're very familiar in Columbia with the flooding of 2015," McMaster said. "That rain and that flooding equals danger."
The governor warned that power could be out for days in some places if first responders have to wait for flood waters to recede.
"This hurricane is going to be with us for about two days," Gov. Henry McMaster said, noting that Hurricane Hugo moved through the state in a matter of hours.
He noted even rainfall in North Carolina could rebound to South Carolina in the form of swollen rivers downstream.
The small town of Nichols, which was heavily flooded after Hurricane Matthew in 2016, seems likely to get hit again by storm-related floods, McMaster warned.
The peak wind gust of 105 MPH recorded Friday at the Wilmington airport was "second highest that's ever been recorded" there, said John Quagliariello with the National Weather Service in Columbia.
In South Carolina, the highest gusts were 63 mph in Conway, while Myrtle Beach International Airport saw gusts of 61 mph.
Hurricane Florence made landfall near Wrightsville Beach at 7:15 a.m. Friday with sustained winds of 68 mph and gusts as high as 90-plus mph, according to the National Hurricane Center. As of Friday afternoon, the storm was moving across southeastern North Carolina at 3 mph.
"That's a little faster than the average walking speed of a person," Quagliariello said.
Florence came ashore as a Category 1 hurricane with winds between 74 and 95 mph, considered strong enough to damage homes, uproot trees and topple power lines.
Rainfall of 15 to 25 inches is expected in the Grand Strand and Pee Dee.
The center of the hurricane will reach Horry County some time Friday evening, but tropical storm force winds can already be felt in the state.
Based on the current track of Hurricane Florence, the central Midlands are expected to get 3-6 inches of rainfall, and 25 to 35 mph winds with gusts up to 45 mph, according to the National Weather Service in Columbia.
Columbia could see gusts of 50 mph, plus 4 to 7 inches of rain, creating the potential for flash flooding.
More than 421,000 South Carolinians had evacuated from the coast as of Thursday, and 5,600 evacuees were staying in shelters open across the state.
Officials warn that rain from Florence could equal the deluge that led to massive flooding in the Columbia area in 2015.