The latest: Eyewall of Florence sitting on coast near Wilmington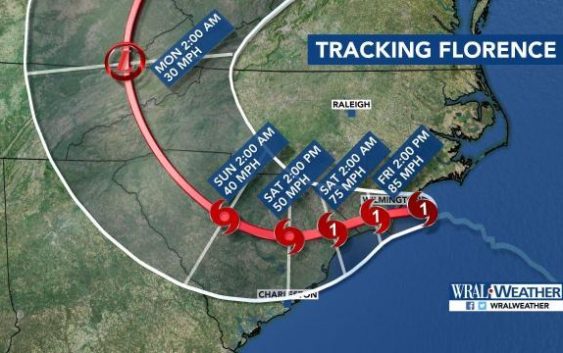 View The
Original Article Here
Hurricane Florence was downgraded to a Category 1 storm overnight. The center of the storm is expected to make landfall near Wilmington early Friday morning.
Latest updates from the coast:
6:54 a.m.: Storm surge (the rising of the sea) in Wilmington is up to 3 feet, but major flooding has not yet been reported there. New Bern is experiencing some of the worst flooding due to overflow from the Pamlico River. The eyewall of the storm is spinning on the coast near Topsail Island, but the National Hurricane Center has not confirmed that center of the eye has made landfall.
6:32 a.m.: The statewide power outage is now at more than 340,000. Crews from Greenville, North Carolina are traveling to New Bern to assist crews with more than 100 rescues.
6:10 a.m.: Wilmington will deal with the storm's eyewall for several hours as the storm slowly moves onshore. Amanda Lamb is in Wilmington and reported that large pieces of sheet metal were flying through the air and car alarms were sounding. Wilmington is currently experiencing winds at 85 mph. The top winds from the storm were recorded at 106 mph in Cape Lookout.
5:55 a.m.: Hurricane Florence is expected to make landfall near Topsail Beach at any time.
5:53 a.m.: A household in New Bern has tweeted that they need help. They are stuck in their attic and their home is flooded. They are among dozens waiting on crews.
5:44 a.m.: Officials in New Bern said crews have been working to rescue at least 200 people overnight. There are about 150 people waiting to be rescued.
5:23 a.m.: About 70 occupants have been evacuated from a hotel in Jacksonville, North Carolina after hurricane force winds threatened the structural integrity of the building.
The group, which included an infant, children and pets, have been taken to the Jacksonville Center for Public Safety after portions of the roof collapsed. No one was injured.
5:16 a.m.: The Outer Banks is now in better shape, but Wilmington is being pounded with rain and winds as the center of the storm gets closer and closer to making landfall.
5:09 a.m.: WRAL reporter Amanda Lamb was barely able to keep her balance in Wilmington while standing outside in 70 mph winds.
5 a.m.: The latest update from the National Hurricane Center shows little change to Florence's path or strength. The Category 1 storm has maximum sustained winds of 90 mph and is moving slowly, at 6 mph.
4:37 a.m.: A whopping 280,000 customers are without power in North Carolina. The highest numbers are being reported in New Hanover County.
4:13 a.m.: We will get an updated look at Florence's projected path at 5 a.m.
4 a.m.: Twenty-eight roads are closed in New Hanover County due to flooding, and power outages are widespread. In Craven County, New Bern's mayor says the town has seen historic flooding, with as much as 10 feet of water reported in some places. Highway 12 is still closed in Dare County. The road closed Thursday afternoon when it flooded 15 hours before Florence was expected to make landfall.