Timeline: When and where will Florence be felt in the Triangle?
View The
Original Article Here
As parts of North Carolina begin feeling the impacts of Hurricane Florence, who will see the worst of the storm and when?
At 11 p.m., Florence was about 60 miles from Wilmington and moving toward landfall at 6 mph. The storm is projected to make landfall near Wilmington as a Category 1 hurricane Friday morning.
The coast
North Carolina's coastal communities were already experiencing strong winds and rain Thursday, hours before Hurricane Florence was estimated to make landfall. Thursday night, Cape Lookout National Seashore reported sustained winds of 83 mph with gusts of 106 mph while Fort Macon State Park reported sustained winds of 70 mph with gusts of 105.
The storm is expected to make landfall between 6 a.m. and noon Friday.
The storm sped up slightly Thursday night, which WRAL meteorologist Mike Maze said boded well for the state.
The Triangle
The Triangle will start feeling tropical storm force winds by 2 a.m. Friday, when winds could reach 39 mph. Central North Carolina feel the worst of the storm Friday morning before winds decrease to 25 mph by noon on Friday.
A tropical storm warning that included parts of Wake County was issued Thursday evening.
Overnight, the region will begin seeing heavy rain and flash flooding and river flooding as a result.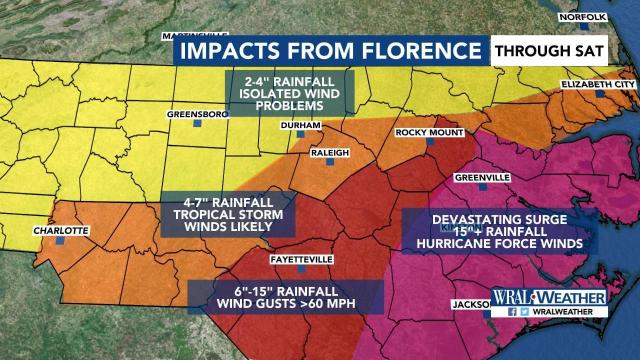 WRAL Chief Meteorologist Greg Fishel said that the worst case scenario models show Wake, Durham and Orange counties getting 5-10 inches of rain while counties to the south could get 10 to 15 inches. Counties in the far south, including Cumberland County, could see as much as 20 inches of rain through Sunday.
"The farther south you go, the stronger the winds will be and the heavier the rain will be," Fishel said.
Rain and winds will continue to move through the area throughout the weekend.
"We may not be completely done with this until sometime Sunday night or Monday, depending on how this thing curves," Fishel said.