Latest: NC officials list 17 Florence-related deaths
View The
Original Article Here
Florence has left the Carolinas but she left a trail of misery in her wake, with several people dead, flooded buildings and destroyed property.
Headlines:
At least 23 people in the Carolinas have been killed in the storm, including 17 in North Carolina and six in South Carolina, according to Gov. Roy Cooper's office and the Associated Press.
Two tornadoes were confirmed Monday morning in central North Carolina in Wayne and Wilson counties.
A large portion of Interstate 95, from Johnston County to the South Carolina line, remains closed as of Monday because of flooding, and Interstate 40 from Wilmington to I-95 also remains closed.
New Bern has been hit hard, with 30 roads still impassable, 4,200 homes and more than 300 commercial buildings damaged, 6,000 customers without power and 1,200 residents in shelters.
Map: Videos, images | Shelters, roads by county | Images: Florence's impact
Get help, give help | NC's worst hurricanes | River flooding forecast
Monday, Sept. 17
1:30 p.m.: Pender County is using helicopters to rescue stranded residents from flooded areas. People needing assistance are asked to call 911 and to wave a towel or flashlight or set off a flare to signal an approaching helicopter.
1 p.m.: Gov. Roy Cooper has put the state's official fatality figure from Florence at 17. Those not previously reported include a 61-year-old man who died in a crash while escaping Wilmington on a moped, a 61-year-old man whose tractor-trailer hydroplaned, ran off a highway in Cleveland County and overturned, a 56-year-old man found at his Onslow County home, a 25-year-old man who died when the SUV he was riding in crashed in the rain in Gaston County, a 73-year-old man found in a submerged vehicle in Scotland County and an unidentified person whose vehicle was swept off a road in Duplin County.
12:40 p.m.: The state Department of Transportation has established a lifeline to get emergency supplies into Wilmington, Transportation Secretary Jim Trogdon said. Crews were able to clear debris and power lines off the unidentified route, and as soon as floodwaters receded, hundreds of trucks have been rolling into the cut-off coastal city with food, water and supplies, he said. Although the route is open to anyone, officials said relief trucks have priority, and they discourage residents and others from trying to get into Wilmington.
12:37 p.m.: Hoke County has ordered a mandatory evacuation for residents along Gulley Branch below McLaughlin Lake. Authorities said they worry about the possible breach of the dam at McLaughlin Lake. The evacuation order includes residents of the Overlake Drive, Shoreline Drive, Lakeside Road and Country Walk subdivisions. Residents needing information were asked to call the county's Emergency Operations Center at 910-848-4646.
12:05 p.m.: Gov. Roy Cooper said people must remain vigilant, even though the remnants of Hurricane Florence are moving out of North Carolina.
"The crisis in North Carolina continues," Cooper said in a news conference, noting more than 1,200 roads are closed across the state and about 484,000 customers are still without power.
11:56 a.m.: A flood warning is in effect for Alamance, Chatham, Davidson, Forsyth, Guilford, Harnett, Orange and Randolph counties until 5:45 p.m. as the remnants of Florence continue to drop rain bands across the state.
11:22 a.m.: Officials are evacuating the Old Well and Old Farm communities in Durham due flooding from the Eno River. Go Durham buses are on the scene to transport evacuees to the Durham Health and Human Services building for shelter if requested.
The fire department is going door to door to get people out and is also using several boats to bring people to safety. Eleven people have been rescued from residences so far.
11:02 a.m. The Union County Sheriff's Office has confirmed that the body of a man has been recovered on Landsford Road. The sheriff will have a press conference at 1 p.m.
10:46 a.m.: The Associated Press is reporting that Union County officials have recovered the body of a 1-year-old boy swept away Sunday night by floodwaters after the vehicle carrying him and his mom drove into rushing floodwaters on N.C. Highway 218.
10:21 a.m.: WCNC-TV, the NBC affiliate in Charlotte, is reporting that a body has been recovered in Union County but the identity of the victim has not been released by law enforcement authorities. Authorities said earlier that a recovery effort is underway for the boy. The station is also reporting that the boy's mother drove through barricades on N.C. Highway 218 and kept going until the vehicle was caught in floodwaters rushing across the road. The woman was able to free herself but apparently lost her grip on her son, Kaiden, who was swept away in the waters.
10:17 a.m.: The rain threat in the Triangle is slowly diminishing. WRAL meteorologist Elizabeth Gardner says the rain will gradually taper off, which will allow for soaked neighborhoods to start drying out.
9:54 a.m.: Sky 5 video shows Hillandale Golf Course is Durham is flooded and a playground in Chapel Hill is underwater.
9:50 a.m.: With Florence moving out of the area, all six Wake County emergency centers are now closed and no longer accepting guests. On Sunday, N.C. Emergency Management transported hundreds of coastal evacuees from Wake County to state-managed shelters in Winston-Salem and Chapel Hill. Remaining evacuees from the coast will be taken to appropriate shelters Monday.
Serious flooding remains in the Triangle and across the entire state.
9:03 a.m.: Video of a school bus driving through a flooded road in Durham has sparked concern.
"Durham Public Schools was in contact with city/county Emergency Management yesterday and reviewing weather/road conditions since 3:30 a.m. today," said Chip Sudderth with Durham schools. "We had every indication that this was a good day to open school. When weather advisories were issued and conditions began to deteriorate, buses were already en route to school. In such situations, it is generally safer for our buses to bypass flooded roads and bring students to safety at our schools, which are secure facilities. We are continuing to monitor and respond to this morning's weather conditions."
The school later stated that students who can't make it to school will have an excused absence.
8:50 a.m.: Residents, property owners and business owners will be allowed to return to Carolina Beach at noon on Monday. "Plan your trip, as many highways are not passable," a press release read.
8:19 a.m.: A tornado warning has been issued for Durham and Granville counties. WRAL meteorologist Elizabeth Gardner says people in those areas should head to their safe space.
7:37 a.m.: Tornado warnings have been canceled for Durham, Orange, Edgecombe, Halifax and Nash counties.
7:22 a.m.: Damage was reported near Elm City after a tornado touched down in Wilson County at 7 a.m. Another confirmed tornado touched down in Wayne County near Goldsboro at 6 a.m.
7:14 a.m. A tornado warning has been issued for Edgecombe, Nash and Wilson counties until 7:30 a.m. People in those ares should seek shelter. WRAL meteorologist Elizabeth Gardner said residents in Sharpsburg should seek immediate shelter.
6:55 a.m: WRAL reporter Mikaya Thurmond says a possible tornado is being blamed for damage to some buildings in Sampson County. There was heavy rain during a live shot by Thurmond right before 7 a.m. On Northeast Street in Roseboro, a roof was ripped off a build that used to house a tire shop. Yellow police tape surrounds the scene. Authorities said the touch down was reported overnight but sheriff's deputies had to wait for daylight to inspect the damage. No injuries have been reported. The buildings that were damaged were empty, authorities said.
6:34 a.m.: Crews are searching for a baby swept out of a flooded car Sunday night in Union County, according to WXII. Authorities rescued the 1-year-old baby's mother.
A tornado warning expired for Wayne County after officials confirmed it touched down near Goldsboro, knocking down several trees.
6:03 a.m.: New Hanover County Manager Chris Coudriet says a person at Hoggard High School died early Monday. County authorities declined to release the person's identity or cause of death, but Hoggard High was being used as a shelter for evacuees seeking refuge from Florence.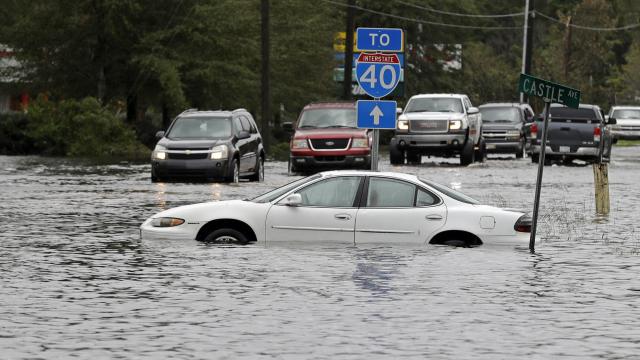 6:02 a.m.: Another tornado warning has been issued for Wayne County until 6:30 a.m. A tornado has been confirmed near Fremont.
5:50 a.m.: A search that began Sunday night in Union County is likely to continue today after a 1-year-old child in a car trapped by floodwaters from Richardson Creek was swept out of the vehicle along with the baby's mother. Law enforcement authorities rescued the woman but have not yet been able to locate the child.
5:30 a.m.: Chapel Hill-Carrboro schools will now operate on a two-hour delay Monday due to the significant overnight rainfall and temporary road closures.
4:19 a.m.: A tornado warning for Wayne County has been canceled. Tornado watch for Sampson and Cumberland counties issued.
3:57 a.m.: A tornado warning has been issued for Wayne County. Residents in the area were advised to find shelter or retreat to a secured space in their homes
Sunday, Sept. 16
11:00 p.m.: Wake County officials plan to close its three evacuation shelters on Monday. The state Division of Emergency Management on Sunday began moving evacuees from Garner, Knightdale and Southeast Raleigh high schools to state-run shelters at the Friday Center in Chapel Hill and the Lawrence Joel Veterans Memorial Coliseum in Winston-Salem.
Medically fragile evacuees from the coast will be transported to the appropriate shelters Monday once the necessary preparations have been taken. Only a few Wake County residents remain in the shelters, and the county will work with them on an individual basis to provide the appropriate housing.
The shelters at Heritage, Middle Creek and Sanderson high schools were closed Sunday as part of a consolidation effort.
The death toll from Hurricane Florence and its remnants has risen to 17 as officials say a 3-month-old died in North Carolina when a tree landed on a mobile home.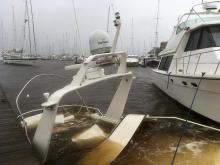 Gaston County manager Earl Mathers said in an email to commissioners the tree fell on a mobile home Sunday in Dallas, about 240 miles (386 kilometers) west of where Hurricane Florence made landfall Friday in Wrightsville Beach.
County spokesman James McConnell confirmed to The Associated Press that officials believe the tree fell because of the rain and wind from the storm's remnants.