NC town's Jewish residents weathered floods but need kosher food for holiday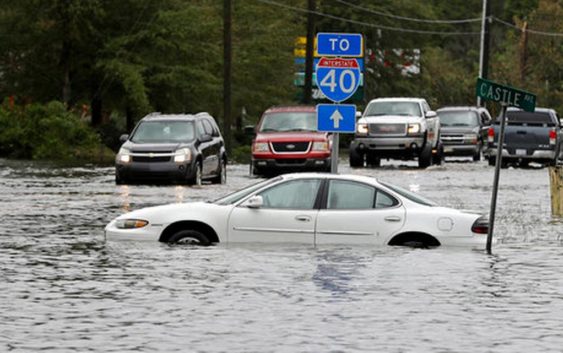 View The
Original Article Here
When Hurricane Florence made landfall last Friday, it came ashore a few miles from Wilmington, N.C.
Many chose to evacuate in anticipation of the deadly storm, but there were a good deal of residents who decided to stay. That included many of the city's 3,000 Jewish residents, according to chabad.org.
While they weathered the storm, they are now faced with a new dilemma.
Yom Kippur, one of the Jewish high holy days, is fast approaching. The Rabbi at Chabad of Wilmington posted on Facebook Monday that he intends to "conduct regular Yom Kippur services as planned."
"Anyone is welcome to come, pray, inspire, share and be inspired by others," Rabbi Moshe Lieblich wrote on Facebook.
The only problem with that plan is the synagogue could need help first. There might not be enough kosher food available for the remaining members of the congregation when they break their 24-hour fasts at sunset Wednesday.
Although emergency crews delivered food and water to Wilmington Monday, according to The Associated Press, the city has been cut off from the rest of North Carolina by flooding. The situation could get worse and further isolate Wilmington.
That's why Jewish leaders across the state are trying to come with a way to deliver kosher food.
"We have a truckload of kosher food for the community. But no way to get it to them," Charlotte's Rabbi Bentzion Groner said, according to chabad.org, which reported options to deliver the food are being examined, including a possible airlift. "We've reached out to military bases to see if we can bring food in via helicopter. We're told Red Cross has runway access in Wilmington, so we're also exploring the option of sending supplies with their planes."
Lieblich remained in Wilmington for the storm because his house was on high ground, where it was not directly impacted by the flooding, the Jerusalem Post reported. He also wanted to be there for the members of his congregation who chose to stay, including some elderly, the Rabbi said, according to forward.com.
"We're going to try to keep in touch with all those that we know of who have stayed … just to be there for people," Lieblich said before Friday's landfall, the Jewish Press reported.
Monday, Lieblich posted that "We are all doing well, thank G-d! However, many areas in Wilmington suffered tremendous damage."
While plans are being evaluated in an attempt to provide more kosher supplies for Wilmington's Jewish residents, Lieblich said the recovery from the hurricane comes at an appropriate time.
"Yom Kippur is a time for reflection and renewal. A time to reconnect to G-d and start the year with a clean slate," the Rabbi posted on Facebook. "For those of us who have gone through the storm, who have to rebuild, clean up and move forward, we can certainly relate to the underlying theme that Yom Kippur represents.
"We are here for anything you may need. If we can be of any help in this recovery process, please don't hesitate to get in touch!"