As massive Florence cleanup continues, no reopening set for UNCW and UNCP campuses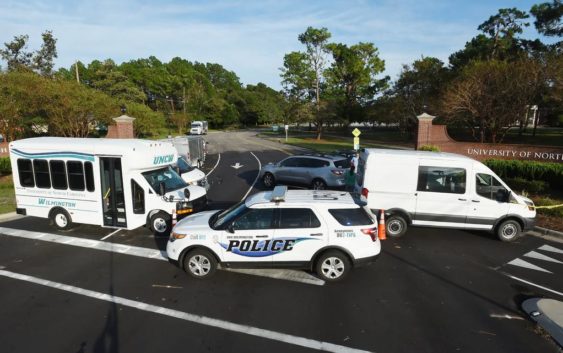 View The
Original Article Here
Students were allowed onto the UNC Wilmington campus Thursday and Friday to retrieve cars they'd left before evacuating for Hurricane Florence.
The return was brief, though, and there's still no word about when they can move back for good.
After days of uncertainty, the university shared photographs of campus damage on its Facebook page Thursday, and described the campus as a "massive 'construction zone' of sorts." The extent of the damage was not entirely clear, though officials have said the science building had extensive damage.
One week after the hurricane flooded much of southeastern North Carolina, UNCW was among three public university campuses still closed. Fayetteville State University is scheduled to reopen Monday, but UNC Pembroke had not set a date for resuming classes on campus.
UNCW was apparently the hardest hit, and for a while, rumors circulated that the campus would shut down for the entire fall semester. University officials shot down that theory, and tried to reassure students that they were still assessing damage and trying to clear the damage.
"I am writing to you this evening with a combination of concern for all of you during this difficult time, and confidence in our collective ability to recover from this disaster," UNCW Chancellor Zito Sartarelli wrote in a message on the university's Facebook page. "I recognize the fear, uncertainty and disbelief many of you are facing, and I want you to know your fellow Seahawks are with you."
He said the university's website, which had been shut down prior to the storm to ensure security, would be restored next week. Some students had posted messages saying they wanted to be able to work online so they wouldn't be so far behind in their studies.
Sartarelli said there would soon be more clarity about a restart date, and students would have 72 hours of notice before the campus reopens.
On Thursday, UNCP Chancellor Robin Cummings wrote that the Lumber River nearby is due to crest again by Sunday. Only one road is open to the campus, he said, and travel remains dangerous.
"We are working hard to repair and restore campus and are making great progress with the hard work of our Facilities Operations team and the assistance from across the state," Cummings wrote in a campus update. A team of groundskeepers and facilities employees from UNC-Chapel Hill had arrived to help.
Campus officials are dealing with a number of challenges. Power went out, and buildings took on water. Trees were down and roofs leaked. Because of floodwaters, it's been difficult to get employees to campus to be able to restore buildings and services.
The UNCW photos showed large crews of workers wearing hard hats and hazardous materials suits. Some were operating chain saws or just raking up debris. Signs were down and a decorative streetlamp was knocked askew by a tree, prompting a Facebook poster to write, "Our world turned temporarily upside down."
Lessons from Tulane
It's difficult to fathom how many thousands of decisions have to be made to reopen a campus after a major storm, said Richard Whiteside, who was vice president for enrollment management at Tulane University in New Orleans when it was devastated by Hurricane Katrina in 2005.
Tulane sent home freshmen students the day after they arrived, as the storm had taken a turn toward New Orleans. Within days after the hurricane struck, the university had made the decision to close for the semester, Whiteside said in a telephone interview.
All but two campus buildings were water compromised, he said, and because of a lack of power, there was no way to dry them out. Mold set in. The city was a disaster zone, so most faculty and staff had to flee.
Then, he said, "the magic of higher education jumped into place."
Tulane students were taken in by 600 universities around the country, for free and without much paperwork. An agreement was put into place whereby the universities accepted the students, but said they would have to leave once their home campus reopened. That agreement covered other universities in New Orleans, too.
"The main problem institutions face is making sure they could get their student body back," said Whiteside, who is now works in Richmond, Va. with education consulting firm EAB.
In Tulane's case, 90 percent of the students returned, Whiteside said. Though the students had scattered, the university sent daily information updates and teams to visit them wherever they had landed.
"Students came back just because they wanted to be able to claim they were part of this incredibly catastrophic event," he said.
By the time students returned, Tulane had repaired the campus, brought in cruise ships to house faculty and staff and even started its own charter school because the city schools were still closed.
'Seahawk strong'
While UNCW and UNCP won't have challenges that big, Whiteside said his advice to the schools is this: keep communicating with students and assure them that they can get back on track with their studies, without incurring added cost or an extra semester in school. That could be achieved with online classes, Saturday classes, summer school or added time tacked onto winter break.
"The students need to know how to move forward with their lives," Whiteside said.
For now, students and families seem to be waiting patiently, if social media comments are any indication.
Some expressed concern about Wilmington's water supply, the condition of off-campus apartments and whether meal plan and tuition costs would be prorated. Overall, though, the message from many was a hearty, "Seahawk strong."
The UNCW Facebook page had a flurry of offers by parents to come help with the cleanup.
One of them, Sharon Swain Currin, posted, "Of course, my son is anxious to return to school, but I really appreciate you and the entire campus putting the safety of the UNCW community FIRST!"
Jane Stancill: 919-829-4559; @janestancill