Bridal shop workers save dresses from Florence's flooding
View The
Original Article Here
For many trying to navigate through Hurricane Florence's flooding, traveling by boat is the only way to cross the Northeast Cape Fear River.
Angela Woodcock isn't making the trip alone.
Her husband helps her cross the river by boat. Their passenger: a wedding dress in a plastic tote.
Full speed ahead.
"I held onto that tote," said Woodcock, co-owner of bridal boutique Camille's of Wilmington. "I had a life jacket on; the tote had a life jacket on. And we were getting those dresses there. We were determined."
Right before Hurricane Florence hit, Woodcock and seamstresses at Camille's packed up all the lace and tulle and sequins they could carry.
"Because of the hurricane, we wanted the dresses in our possession so that if we were safe, we knew the dresses would be safe," Woodcock said.
Mother Nature may not care about someone's big day, but the workers kept up with sewing and alterations by candlelight.
"With my generator I powered four things: I did my refrigerator, my freezer, a light so I could see, because we boarded the windows and the house was dark, and my sewing machine," said Lorraine Seibold, alterations manager at Camille's.
Florence left, but flooding followed, trapping communities all over North Carolina.
"I kept thinking about the wedding dresses, and my husband made a comment, 'I think you care more about the dresses than you do me sometimes,'" Woodcock said.
Woodcock chartered the dresses through strong currents and record flooding.
"This was precious cargo on that boat," she said. "I held onto it so tight, like, this dress cannot go overboard."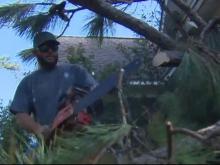 Seibold said the shop's responsibility is "to make sure a bride's dreams come true, despite the hurricane and the winds and the trees cracking around us."
The dresses arrived in pristine condition and with a story to tell.
"Well here's an interesting story for your wedding: Your dress came here by boat today," Woodcock said.
"The show must go on when it comes to a wedding," she said.
After Woodcock brought over dresses, she would also drop off water and supplies to neighbors on the other side of the river on her way back home.
Camille's of Wilmington plans to donate 10 percent of their sales this month to victims of Hurricane Florence.