Wake family who lost home to Florence warns residents to prepare for Hurricane Michael
View The
Original Article Here
Raleigh, N.C. — The damage left behind by Hurricane Florence remains across North Carolina and now families are hoping Hurricane Michael will cut everyone a break.
The Oliveres family was watching Michael closely Tuesday night. A tree fell on their brand new home during Hurricane Florence, just missing the people inside.
"I don't sleep at night anyway, since that happened," Sarahi Oliveres said.
Like thousands across the state, the Oliveres family is still trying to recover.
"We're OK. It's just been hard to adapt to new places like my friend's house then moving to a hotel and then a new house," Oliveres.
The family has been in a hotel for the past three weeks and will have to stay there for several more weeks until they can figure out their next stop. In the meantime, Hurricane Michael is headed toward North Carolina.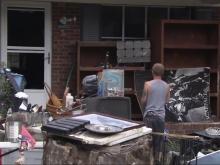 "At this point, we're expecting impacts to be heavy, gusty winds throughout the state, more so on the coast. We're looking at several inches of rain, 4 to 6 inches of rain and 4 to 7 inches in some of the central parts of the state," said Keith Acrees with North Carolina Emergency Management."We're concerned about things like falling trees in already saturated soil, we're concerned about power outages, and we're concerned about flash flooding."
While North Carolina state officials don't believe the impact from Michael will be as severe as Florence, everyone is urged to prepare.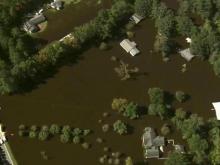 "So we've been working over the past several weeks since Florence passed us to try and restock everything, make sure all of the teams' equipment and supplies are ready to go both at the state and local level," Acrees said.
While officials prepare, the Oliveres family is sending a warning of their own.
"Get prepared, leave the house and not think about it twice because I thought nothing would happen to my house and it did," Oliveres said.