Legislature appropriating $850 million for Florence relief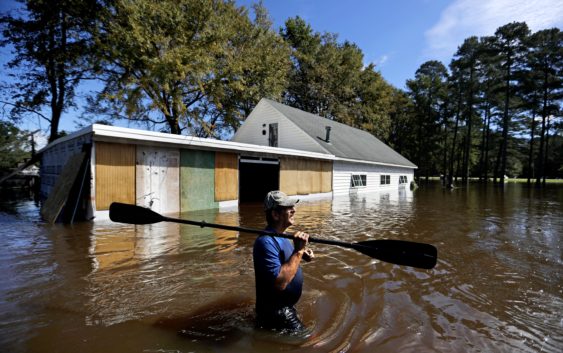 View The
Original Article Here
The General Assembly is expected to take up the Hurricane Florence disaster assistance package on Monday evening.
RALEIGH — State lawmakers convened Monday to approve a $794 million package of Hurricane Florence disaster relief.
This would be in addition to the $56.5 million allocated by that the General Assembly and governor allocated nearly two weeks ago. Most of the money is coming from a $2 billion "rainy day fund" that the legislature has built up to have cash available to draw on in the event of a natural disaster or other unexpected expense, the legislature's leaders said.
Hurricane Florence lingered over North Carolina for six days in September, battering the eastern side of the state with high winds and devastating flooding. Some communities were still trying to recover from 2016's Hurricane Matthew when Florence arrived.
[RELATED: 39 million gallons of untreated sewage spilled into the Cape Fear River]
The offices of state House Speaker Tim Moore and Senate President Pro Tem Phil Berger haven't spelled out in detail how the $794 million would be allocated. As of middday Monday, no legislation had been filed for the spending plan.
The legislation should become available by 4 p.m., when a joint House and Senate Appropriations Committee is scheduled to discuss and approve it. The House and Senate are scheduled to meet at 7 p.m. to approve the package and send it to the governor.
The plan is based on a preliminary damage report issued on Wednesday by the state Office of State Budget and Management.
The report estimates North Carolina faces $12.7 billion in recovery costs, a figure that may grow when more data are available. Much of that cost is expected to be covered by private insurance and federal assistance.
[RELATED: Cabinet secretaries visit Wilmington]
Some of the recovery costs include:
• $3.9 billion in the business community;
• $3.5 billion from housing;
• $2.4 billion in agriculture.
There are smaller amounts for water, sewer and utilities; natural resources; government property and revenue; transportation; education; health and human services; and recovery operations.
The figures include nearly $9.7 billion in direct losses, and $2.4 billion in indirect losses such as expenses caused by the storm and recovery, and $611 million in resiliency efforts such as flood abatement and water quality protection measures.
Staff writer Paul Woolverton can be reached at pwoolverton@fayobserver.com or 910-486-3512.