Rainy, warmer trend sets in ahead of level 2 risk for severe weather
View The
Original Article Here
Raleigh, N.C. — Strong storms are on the way this week, prompting the National Weather Service to place parts of the state under a threat for severe weather.
Commuters will be greeted by rain throughout much of the viewing area on Monday morning, but according to WRAL meteorologist Elizabeth Gardner, the rain will be patchy throughout the afternoon.
By Monday evening, the rain chances will decrease from 50 percent to 20 percent, and the wet weather could continue overnight before a chance for severe weather comes Tuesday.
"The rain won't really be a problem for the evening commute," said Gardner.
Tuesday's forecast brings a 50 percent chance of rain for much of the day and a level 2 out of 5 (moderate) risk for severe weather. The best chance for severe weather Tuesday will be late afternoon.
Isolated tornadoes, lightning and heavy rain are likely Tuesday, and with the storms will come a much warmer day, with highs in the mid 70s.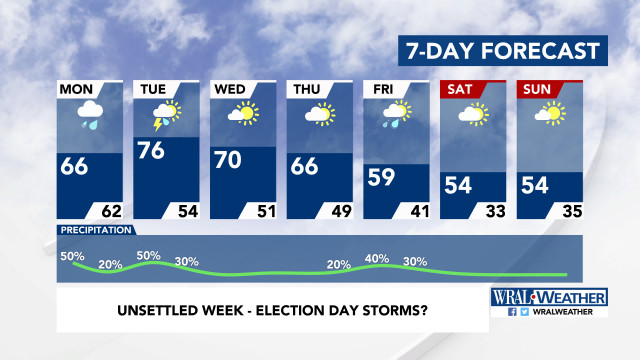 Tuesday's storms are not likely to be an all day event, but it is too soon to know exactly when they will move in or how long they will stick around.
By Wednesday and Thursday, the sun will be out again, and temperatures will drop back down to normal levels for fall.