Wake schools closed Monday; melting snow, rain cause Raleigh flooding
View The
Original Article Here
Raleigh, N.C. — A thick, beautiful snow has turned into rain across the Triangle, but the threat of treacherous roads and power outages remains. Northwest of the Triangle, white powder is still falling.
Highlights:
A winter storm warning is in effect for most counties in and west of the Triangle until 7 p.m. Monday.
The heaviest snow fell across central North Carolina early Sunday.
All precipitation should taper off in the Triangle by about 6 p.m., but snow and freezing rain could return before the Monday morning commute.
Officials are urging people to stay off the roads, as freezing rain could cause power outages and turn roads icy.
Snow totals:
Some parts of Wake County measured up 11 inches of snow.
Durham and Orange counties have seen up to 10 inches of snow.
Before it tapered off, Rocky Mount and Tarboro saw anywhere from 3 to 6 inches of snow.
Many areas southeast of Raleigh, including Fayetteville, saw no snow Sunday.
Updates:
3:30 p.m.: The Wake County Public School System joined the list of those canceling school on Monday as the Triangle digs out from a snowstorm that dropped double digits of snow and steady rain followed.
Make-up days are scheduled as follows:
Traditional-Calendar Schools: Friday, January 18
Modified-Calendar Schools: Monday, December 17
Wake Young Men's and Women's Leadership Academies: Thursday, December 20
Wake STEM Early College: Friday, January 4
Vernon Malone Career and College Academy, Wake Early College of Health Sciences, North Wake College and Career Academy: Thursday, January 3
Year-Round, Track 1: No make-up day required
Year-Round, Track 2: Saturday, December 15
Year-Round, Track 3: Saturday, December 15
Year-Round, Track 4: Saturday, December 15
Barwell Road Elementary and Walnut Creek Elementary: Friday, December 21
Carroll Middle, East Garner Middle, East Millbrook Middle: Friday, February 15
Fox Road Elementary: Tuesday, February 19
3:15 p.m.: Melting snow and falling rain flooded South Saunders Street south of downtown Raleigh. Water was standing up to 4 inches deep on the road.
3 p.m.: North Carolina Central University in Durham will operate on a very limited basis on Monday, with only minimal staff and services.
Wake Tech canceled classes for Monday as well, including the Adult High School and High School Equivalency graduation ceremony scheduled for Monday evening.
2:30 p.m.: In Raleigh, trees, branches and power lines were down across Lassiter Mill Road.
Ray Richardson, who took his dog out for a walk to survey conditions, said he hear loud booms like transformers blowing.
1:40 p.m.: North Carolina State University will operate on a delay Monday, with no classes and offices closed until 11 a.m.
Final exams that were scheduled to begin Monday at 8 a.m. will be postponed until Saturday, Dec. 15, at 1 p.m.
Exams scheduled for Monday at 1 p.m. will take place as planned.
1:30 p.m.: Within an hour of its opening at noon, Crabtree Valley Mall announced it would close at 3 p.m. while cleanup from a snowstorm continues and rain falls in Raleigh.
WRAL meteorologist Elizabeth Gardner said those who were seeing rain, in communities from Raleigh and south, had likely gotten their share of snow and would not see more.
Heavy snow was still falling in Roxboro, Oxford, Henderson and into southern Virginia.
"The transition of snow to rain has slowed its progress north. It'd kind of stuck between Durham and Raleigh," Gardner said.
Winds and rain that followed the snow made for a chilly afternoon. Although temperatures were steadily above freezing, wind gusts of up to 35 mph made it feel like 20 degrees in Raleigh and Durham, Gardner said.
1:15 p.m.: In Durham, police responded to more than 20 weather-related crashes between 6 a.m. and 1 p.m. on Sunday, and officers assisted more than 25 stranded motorists as snow accumulated an rain fell, creating slick conditions across the Bull City.
Duke Street was closed between Leon and Murray avenues, and power outages were reported across Durham County.
12:45 p.m.: WRAL Chief Meteorologist Greg Fishel says improved technology and tracking allows a view of precisely where the snow/rain transition is taking place.
The correlation coefficient, which looks at the shape of what the radar is hitting, can differentiate between snow and rain.
Just before 1 p.m., that was a line running west to east across Hillsborough, Durham, Stem, Louisburg and Enfield.
Communities that had seen steady snow all morning were finally seeing that start to transition to rain, Fishel said.
12:25 p.m.: Heavy snow and the rain that followed downed trees across the Triangle Sunday afternoon.
A tree fell on a house on Markham Drive in Chapel Hill. In Holly Springs, heavy snow collapsed a roof at Doyle's Christmas tree stand.
In Lee County, a tree fell on an apartment building in Sanford, damaging four units and leaving at least eight people without a place to stay. One man suffered a broken leg.
A Sanford Fire Department spokesman said the tree was old and possibly toppled when roots released from the saturated ground.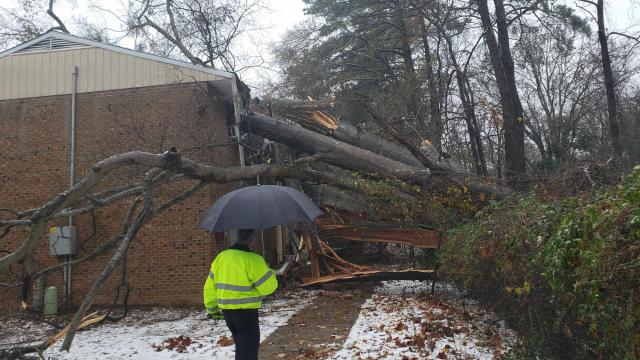 12 p.m.: A second band of snow is likely Monday, according to Gardner. Temperatures in the Triangle shouldn't fall below freezing again until 5 or 6 a.m. on Monday, when a chance for snow, sleet or freezing rain returns. According to Gardner, wintry precipitation could cause road issues for the morning commute and until lunchtime Monday before warming temperatures eliminate the risk.
11:45 a.m.: Officials provided more information about a serious weather-related crash involving a submerged tractor trailer. A dive team is responding to the Neuse River in Kinston, where the truck ran off the road and into the water. According to officials, a driver or passengers weren't accounted for.
11:30 a.m.: Raleigh-Durham International Airport tweeted a photo of runways, reminding travelers "our snow warriors are out working hard to keep the runways and taxiways open. Please remember to check with your airline for the latest flight information before making your way to the airport."
11 a.m.: Durham Public Schools will be closed Monday in addition to Orange schools. Wake schools have not yet announced a decision.
"Don't be fooled — this storm is treacherous," said Gov. Roy Cooper in an 11 a.m. press conference. "Already some areas have seen more than a foot of snow, and we still have hours and inches of sleet and snow to come. You put first responders at risk by going out."
Numerous crashes have already been reported, according to the governor. Part of U.S. 70 is closed in Kinston after a tractor trailer ran off a road into the Neuse River.
A total of 170,000 North Carolina households are without power, most in the mountains, in the Triangle and in Mecklenburg County.
172 National Guard members and 60 special vehicles are responding, according to Gov. Cooper. Eleven shelters have opened in western North Carolina.
10:30 a.m.: Now that the snow has ended in Raleigh, many are wondering — what will travel conditions be for the rest of the day and for Monday morning?
According to Gardner, while heavy snow continues to fall in Durham, conditions in Raleigh are drastically improving. Temperatures will climb into the mid 30s Sunday afternoon, eliminating much of the snow and slush from the roads.
Temperatures will stay above freezing overnight, but, by 6 a.m., they could drop back into the low 30s, and more snow and freezing rain is possible.
"We could add on another inch to our snow totals," said Gardner of Monday morning, though it's too soon to know for sure.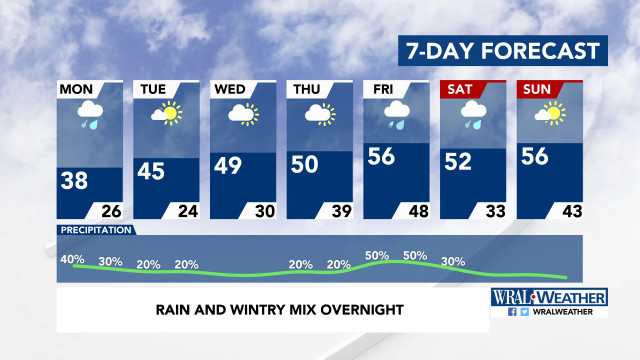 For this reason, the Monday morning commute could be treacherous, although conditions will improve by 3 p.m. According to Gardner, Tuesday and Wednesday mornings will also be cold, which could make for some slick areas.
10:10 a.m.: A tree is blocking a portion of Six Forks Road in Raleigh. Although many major roads are clear, officials are asking people to stay home so they can be cleared. Although Wake roads are clearing well, the Durham Freeway is covered in snow. That's because rain has not yet started falling in Durham.
According to WRAL reporter Cullen Browder, the trip into Durham from WRAL-TV studios in Raleigh is a different world.
10 a.m.: Rain and heat from cars are creating more and more black pavement around Raleigh, but secondary roads remain treacherous. Heavy, wet snow on tree limbs threatens to cause more power outages.
Temperatures will linger in the low to mid 30s Sunday before dropping to 32 degrees overnight and into Monday. Monday morning will be cloudy and chilly, and there will be another slight chance of showers and snow. After what could be a messy morning commute and afternoon, conditions will be dry for the rest of the work week.
9:45 a.m.: Eight inches of snow have been reported in Durham, where snow continues to fall. Orange County schools will be closed for staff and students Monday, officials just announced.
Durham Tech also announced that classes will be canceled Monday.
9:30 a.m.: Road conditions are gradually improving in Wake County. "If you can get to major highways, you should be in good shape now that rain has started falling," said Brian Shrader. Still, officials are asking people to stay home.
According to Shrader, some secondary roads and bridges in Wake County could be icy this evening and for the Monday morning commute, which will see temperatures in the 20s and low 30s.
In Wake Forest it is still snowing, but that area could see snow change over to freezing rain in the next hour, according to Gardner.
"For us, the snow is over," said Gardner. "If you have already transitioned over to rain, you won't see snow again."
Even after the snow stopped, the fun continued for many. Sledders were spotted in Dix Park in Raleigh, and WRAL News has already received hundreds of photos showing snowmen, pets and children playing and more.
9 a.m.: "Roads in Wake County are largely slushy and wet," said WRAL reporter Brian Shrader. "But conditions get worse the more northwest you go." In Chapel Hill, ice is accumulating on the roads, and even some major routes remain impassable.
"Please stay off the roads today, if you can, so our crews can safely work," Durham officials posted to Facebook.
8:45 a.m.: While people are still asked to stay off the roads, some clearing is in progress. In Raleigh, DOT crews had paved away much of the snow from the Glenwood Avenue and Creedmoor Road intersection. Slick spots remain even in these cleared areas where the street is visible, and empty roads are the safest way first responders can assist others.
A wintry mix of snow and rain is still falling rapidly in Durham, where roads also remain treacherous. Drive 5 spotted plows clearing snow from the Durham Freeway.
8:30 a.m.: Snow that was once falling in downtown Raleigh has now changed over to rain, according to Gardner, and the snow is not likely to return. Instead, a dangerous, slick glaze could form on roads even as temperatures gradually climb.
Before the snow stopped, almost 6 inches of precipitation fell at the WRAL-TV studios. More than 130,000 are currently without power in the state, and the number is expected to climb.
According to Durham County Sheriff Clarence Birkhead, it appears that most people are heeding warnings and staying home, as the county had reported only 14 stranded motorist calls. "We are in full weather mode," Birkhead told WRAL News in a phone call. "We have chains on our vehicles that have to be out and we are not responding to calls that are not necessary."
8 a.m.: Roads will likely remain treacherous as snow turns to rain later this morning. "When the snow melts, it falls as rain, and it will freeze on contact when it hits surfaces," said Gardner. "Most of our viewing area will see this transition as we go through the day."
7:50 a.m.: "The changeover [to rain] is coming, and it is coming quickly," said Gardner. "And once you hit rain, you are not likely to turn back into snow."
According to Gardner, areas near the Virginia line will keep seeing snow Sunday, while rain is expected to takeover Raleigh soon and Durham and Chapel Hill a but later. At 7:45 a.m, snow totals in northwest Wake County were at 6.5 inches, snow totals in Chapel Hill were at 6.4 and snow totals in Rocky Mount were at 4.3 inches.
7:30 a.m.: N. Duke Street in Durham was a dangerous scene, with several cars stuck and stalled in the middle of a normally busy road. WRAL reporter Sarah Krueger met a post office employee who became stranded on her way to work.
"There are so many areas where we are seeing vehicles try to get up hills but fail," said Sgt. Knox, who said the thick heavy snow is causing a variety of issues.
"If you are not essential to wherever you are going, you don't need to go," said Knox. "Our call volume is extremely heightened. Our interstates are particularly bad because that's where people increase their speed."
Sgt. Knox said crews are starting to clear roadways, but that is made more difficult when people are on the roads.
7:15 a.m.: A gas tanker truck is blocking Cary Parkway at Tryon Road. Drivers across the viewing area are urged to stay off the roads, which remain treacherous.
It is still snowing in Raleigh, but the band of freezing rain is getting closer. Wilson and Johnston counties are already seeing a changeover to rain. Temperatures will gradually rise into the mid 30a throughout the day, but ice will be a concern as Sunday continues.
7 a.m.: Six inches of snow have been reported in Youngsville, but snow lovers in Cumberland County will be disappointed when they wake up to mostly rain on Sunday. Chapel Hill and Durham have seen 4 inches of snow.
Major roads and highways are still covered in snow, signaling that secondary roads are treacherous. The NCDOT has started clearing the roads and is asking motorists to stay home.
Travel plans should be canceled Sunday, especially plans to head north or west. WRAL News has received reports of both tractor trailers and other cars stranded on snow-covered roads.
6:50 a.m.: The best time for sledding, snow angels and snowmen will be early Sunday, according to Gardner, as freezing rain is likely to take over the afternoon. Snow cream lovers will also need to collect snow early before the powdery consistency is replaced with an icy glaze.
6:30 a.m.: GoTriangle , GoTriangle, GoRaleigh and GoDurham have suspended all service at least until noon "to keep our customers and employees safe," according to a release. Sunday's Holiday Express event at Pullen Park has been postponed.
Wake Forest has seen the highest snowfall totals, now recorded at 5 inches.
More than 150 flights are canceled at RDU.
6 a.m.: More rain has developed in the southern portion of the viewing area, and the Triangle is expected to see a switchover to freezing rain by lunchtime. Johnston County will be one of the first areas to see the changeover to rain.
Snow totals are 3 inches in Raleigh, almost 4 inches in Wake Forest and 3.5 inches in Durham. The snow is falling at a rate of 1.7 inches an hour. Dozens of flights are canceled at RDU and driving conditions are "terrible," according to Drive 5.
5:30 a.m.: Most of the Triangle is seeing snow, according to Gardner. Around 8 or 9 a.m., a band of freezing rain will shift northward into the Triangle area. The freezing rain should turn to rain by lunchtime, halting the snow. "We'll see more snow up to the north, because the rain won't make it there until much later," said Gardner.
On I-40 in Raleigh near Rock Quarry Road, the flakes were already slowing down. Multiple cars, including pick-up trucks and SUVs, were pulled over on the side of the road. 100,000 customers are now without power statewide.
5:15 a.m.: On I-440 in Raleigh, Drive 5 witnessed motorists abandoning their vehicles. "Visibility and road conditions are among some of the biggest threats to drivers," said Sgt. Christopher Knox with the N.C. State Highway Patrol, whose teams have already been assisting stranded drivers.
Big changes are coming to the Triangle — and the snow should change over to rain fairly quickly. However, according to Gardner, "there is plenty of this, and it's going to come in bands."
5 a.m.: At least 86,000 customers are without power in the state, and roads are treacherous and slippery. According to WRAL meteorologist Elizabeth Gardner, the snow is expected to change over to rain by lunchtime. Temperatures at that time will be close to freezing, at 33 degrees, and temperatures Sunday are expected to top out around 35 degrees by late afternoon.
Freezing rain in the Triangle could accumulate, knocking down trees and causing power outages later in the morning.
4:30 a.m.: Roads across the viewing area are not clear. WRAL has received reports of cars stranded on the sides of the roads, and major highways and interstates are covered with snow. Travel will be hazardous, especially northwest of Raleigh or anywhere in western North Carolina.
4 a.m.: At least 1.3 inches of snow covers Western Boulevard in Raleigh, while a half inch has fallen so far in Wilson. According to WRAL meteorologist Kat Campbell, snow is falling at a rate of 1 inch an hour in some places.
Central North Carolina is currently seeing its heaviest snow, with Durham and Chapel Hill seeing even more snow than the Triangle.