El Niño forecast to bring more rain, flooding this winter to Houston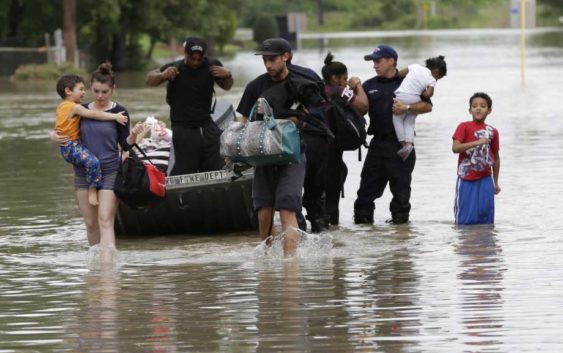 View The
Original Article Here
Photo: David J. Phillip, STF / Associated Press
Houstonians can expect more rain than usual — and possibly street flooding — this winter, thanks to El Niño.
The National Weather Service forecasts an 80 percent chance for a weak to moderate El Niño this winter, starting around Christmas and lasting through February. In Houston, El Niño means a warmer and wetter winter that could have more severe storms and a higher risk of localized flooding.
Last week's storm, which brought high winds and street flooding to the region, is indicative of an El Niño storm, said Ken Prochazka, a meteorologist with the National Weather Service in Houston.
"After our wet fall, the ground out there is saturated," Prochazka said. "When we don't get a chance to dry out, we're more likely to have runoff and street flooding."
El Niño occurs when the temperature of the Pacific Ocean off the coast of South America is warmer than usual. The warm Pacific water affects the atmosphere and causes changes in weather patterns around the world.
In the U.S., El Niño accelerates the North American jet stream, pushing storms from the Pacific across the the country at a faster speed. Storms can move across Texas every three to four days during El Niño, dropping more rain than usual.
Houston typically sees 3.6 inches of rain in January. El Niño can bring more rain than that, Prochazka said.
In other parts of Texas, El Niño can bring a higher chance of snow this winter. San Antonio, for example, sees snow 2.5 times more often during an El Niño year than a typical year. Last year, San Antonio got 1.9 inches of snow, according to the National Weather Service.
City officials said they are preparing for the possibility of more rain this winter due to El Niño. Mayor Sylvester Turner said he has instructed the city's Office of Emergency Management, public works department, its police and fire departments and the Houston Airport System to update their preparedness plans for future storm.
The city of Houston in recent years has invested in more training and assets, such as communication equipment and high water rescue vehicles, to respond to storms. The city maintains a list of high-water trouble areas and will put barricades up to prevent vehicles from driving into high water.
"We can't prevent a storm from coming, but are actively working to mitigate the risk of flooding by expanding bayous, adding more detention basins and new guidelines for homes in flood prone areas to be built higher in the future," Turner said in a statement. "Through these and other efforts, Houston will be more resilient as we face unpredictable storms and major flooding."
The National Weather Service forecasts a 55 percent to 65 percent chance that El Niño could extend into spring, meaning stronger storms with damaging winds and tornadoes across Texas.
Houston last saw El Niño-related storms between 2014 and 2016. The city saw particularly strong El Niño storms in 1997 and 1998. El Niño, which occurs unpredictably, can last for a couple of years, Prochazka said.
While El Niño brings a higher risk of floods, its weather sibling La Niña brings a higher risk of wildfires to Texas.
La Niña occurs when the water off the coast of South America is cooler than usual. In Houston and Texas, La Niña means a colder, drier winter — conditions ripe for wildfires. In 2011, wildfires, helped by La Niña-related drought conditions, burned 4 million acres in central Texas.
"Be careful what you wish for," Prochazka said, "because you might get it."
paul.takahashi@chron.com
twitter.com/paultakahashi