Insurance experts say 3,000-plus claims in so far after damaging wind storm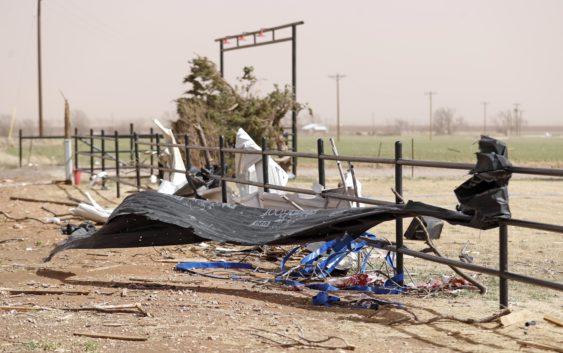 View The
Original Article Here
The severe windstorm that left tens of thousands without power earlier this month across the region has now led property owners to file more than 3,000 insurance claims.
And insurance experts touring the region last week said there are likely more claims to come, offering area residents tips to make the claim-filing process easier.
Mark Hanna, manager of public relations with the Insurance Council of Texas, and Chris Pilcic, media representative with State Farm, weighed in on the storm's aftermath and shared what people in the state can do to make sure they are prepared for detrimental damages.
Hanna said the wind speeds around the state on March 13 could be compared to an F-1 tornado system.
Lubbock peaked at 78 mph winds and had at least 1,000 insurance claims by last week, he said.
Amarillo saw 94 mph wind gusts and had sustained severe-level winds for well over five hours, said Hanna. As of last week, Amarillo area residents had made more than 2,000 insurance claims.
Although the wind gusts were potent, they didn't produce the same choking and blinding level of dust that alone can cause crashes since they came after heavy, widespread rainfall.
"But anyone who was driving around the area – you had cars going sideways bouncing into other cars, you had semis getting blown over," said Hanna, adding that many people in the state suffering from the winds have already made insurance claims.
He noted that there were reports of tree limbs were blown into cars and power lines. Gusts ripped doors off vehicles. Even whole trees fell into homes and cars.
"We've had about 2,700 claims across Texas," Pilcic of State Farm alone."The damage we've seen is from the Panhandle, West Texas down to Odessa and all the way through Tyler. But we've actually had very little hail reported with this (storm)."
Hanna said reports of wind gusts were up to 109 mph in Grand Prairie.
Although it takes time to pick up the pieces and get life back in order, Pilcic said vehicle and property owners should make a priority of assessing their damage and reporting it.
"As the weather calms down a little bit and you get out in your yard, either call a contractor to have the damage estimated first or call their insurance company and start the claim process," said Pilcic.
Hanna said even if it's days later and people are just seeing damages done due to the wind gusts, they still have plenty of time to file an insurance claim.
"We're not asking that they wait an inordinate amount of time, but document the damage," he said. "Take some photos and call your agent."
Pilcic added that if more storms are in the forecast and bring any hail or damaging winds, it's best to make temporary repairs on your home so that further damage doesn't have to be assessed after the fact.
"So if there are shingles missing, if there's a window broken, we encourage customers to buy tarps, plywood," he said. "Make those temporary repairs, save your receipts, document what you've done. Because you're reducing risk of further loss."