A father and his five kids were inside Franklin home when tornado ripped it to shreds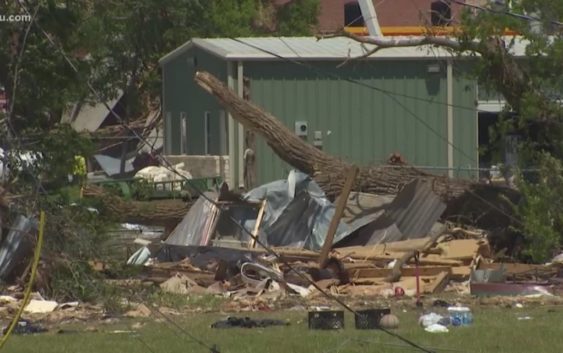 View The
Original Article Here
FRANKLIN, Texas — A father was with his five children inside their home when a tornado passed through their small town Saturday.
"Everything is gone. Everything." said Rodney Green.
The EF-3 tornado ripped through the town of Franklin over the weekend.
The tornado ripped their trailer home to shreds. All six family members were inside when it happened.
"The tree came right there and hit the trailer and busted my room open. The wind came in, picked us up. We hit that car. Then we hit that tree. Then it just took us across the road." said Green.
His kids, ages 16 to 22 years old, were scattered. They were among the 12 people hurt in the storm.
"I was separate from my house and my dad and my brothers. I was over here and they were over there." said Mercedes Green.
"I can't believe this happened in Franklin." said Rodney.
The community is now picking up the pieces and starting the cleanup process.
Officials estimate more than 60 structures were damaged or destroyed Saturday. The majority of the damage occurred in the south side of town.
The mayor of Franklin expected power to be restored to the whole city by Monday night.
A team of emergency responders spent Monday going door to door checking for gas leaks, because more storms are expected Wednesday.
Crews are also focusing their effort on picking up tree limbs and debris.