As Cat. 5 Hurricane Dorian threatens Bahamas, UNCW asks students to stay out of the ocean
View The
Original Article Here
Raleigh, N.C. — An 11 a.m. update from the National Hurricane Center identifies Hurricane Dorian as a dangerously strong Category 5 storm with maximum sustained winds of 180 mph.
Dorian will close in on the Bahamas on Sunday and is already creating strong rip currents off North Carolina's coast, but it shouldn't bring heavy rain and winds to North Carolina until Wednesday or Thursday.
The 11 a.m. update shows that Dorian now has windspeeds up to 180 mph, though gusts over 200 mph were recorded in the Bahamas on Sunday. Dorian is moving west at 7 mph and is 650 miles south of Raleigh.
The well-organized, tight storm is expected to move past the Bahamas slowly, dumping heavy rain there Sunday and Monday. A storm surge of up to 20 feet above normal tide levels with higher destructive waves was expected, and the National Hurricane Center called the situation life-threatening.
"Dorian could become almost stationary in the Bahamas," WRAL meteorologist Peta Sheerwood said. A slow-moving storm is a dangerous one, and Dorian is expected to remain Category 5 for several hours before it weakens to Category 4 by Monday.
As the steering ridge breaks down, it will likely begin to steer Dorian north early Monday. A direct Florida landfall appears less likely but impacts are still possible.
By Tuesday, models show Dorian moving north in the Atlantic, parallel to the coastline. According to Sheerwood, Dorian could weaken to a Category 3 storm by Wednesday as it loses intensity.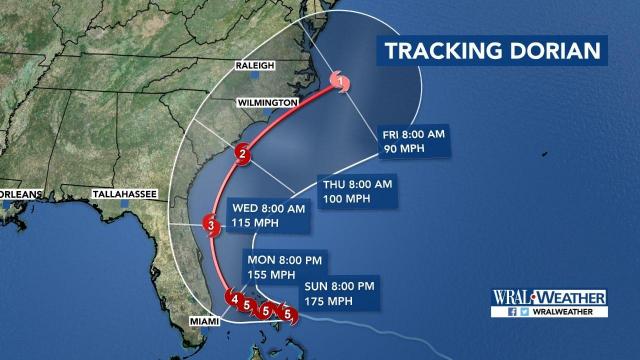 By Wednesday night or Thursday, Dorian is expected to affect central North Carolina and the coast. At that time, it could impact South Carolina and North Carolina, dropping heavy rain along the the coast and bringing strong winds.
One line in a scatter model indicates that Dorian could make landfall in North Carolina, while most tracks show the storm moving off into the Atlantic Ocean.
The coast, the Triangle and Charlotte are all within the cone, meaning landfall is possible there. "Since the cone includes the coast, and Raleigh, we have to keep a close eye on this," Sheerwood said.
Depending on the storm's path, central North Carolina could see tropical storm force winds around 45 or 50 mph by 2 p.m. Thursday. North Carolina's coast could experience even stronger winds of 70 to 90 mph.
Sheerwood said rainfall totals "look impressive," with some coastal areas expected to get as much as 10 inches. On Sunday, there was already a rip current threat for the coast, so Labor Day beachgoers should use caution if they swim in the ocean.
The University of North Carolina Wilmington posted a notice on Facebook, asking students to stay out of the ocean.
Both the American and European forecast models keep Dorian off the Florida coast without making direct landfall in the state. The American model shows Dorian at the southern tip of the North Carolina coast, moving through the entire coastline through Thursday afternoon.
The European model shows a slower track, putting Dorian at the southern tip of the North Carolina coast Thursday afternoon and moving out Friday afternoon.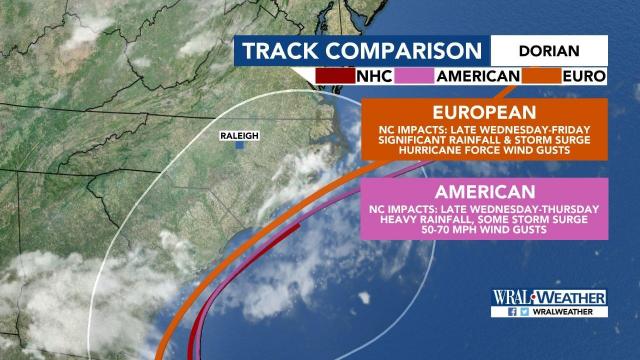 Barry Porter, regional director of the Red Cross for eastern North Carolina, said he thought when the storm was developing that it might follow the same path as Hurricane Matthew in 2016.
He advised North Carolina residents to pay attention to forecast updates and prepare now for the affects of Dorian.
"Be ready, and take steps now," he said. "Don't wait till 24 hours. You have four, five days' notice. Take effective steps today."
Gov. Roy Cooper is expected to hold a news briefing at the State Emergency Operations Centyer in Raleigh at 1:30 p.m. on Sunday.