Houston forecast: Slight risk of severe weather later today; Wintry weather for parts of Texas
View The
Original Article Here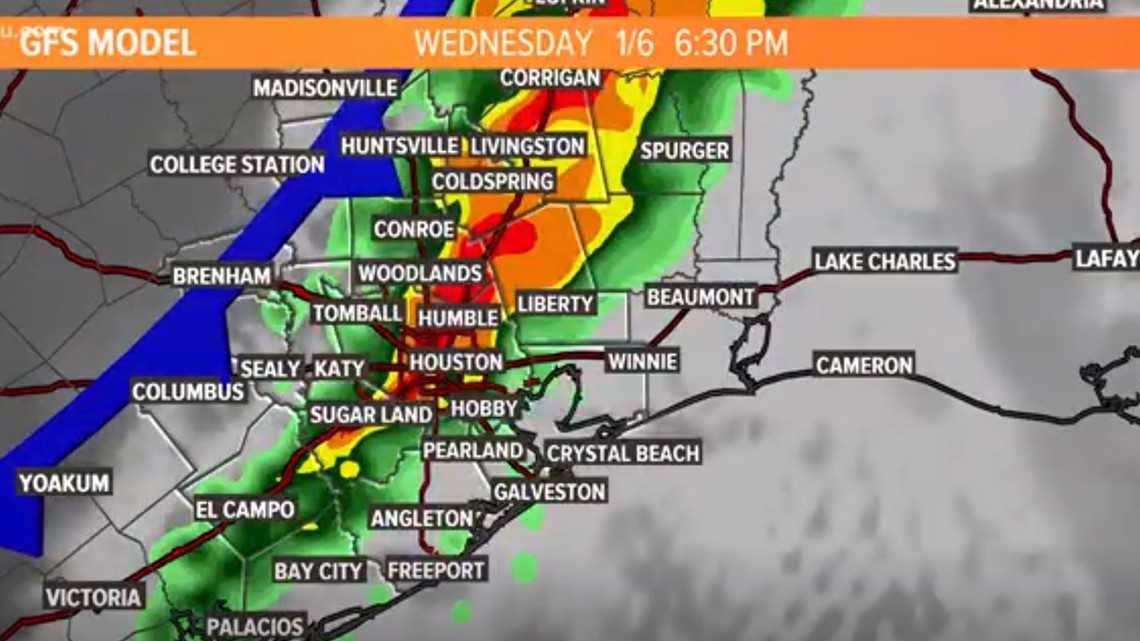 We will get the first of two storm systems on Wednesday. The second arrives on Sunday.
HOUSTON — We have enjoyed spring-like weather lately, but that all changes starting Wednesday.
We will soon get a cold front for the second half of the day with a 70% rain chance and a wind shift to the northwest by late Wednesday evening. Some of those storms could pack a punch, as we have a concern for severe weather.
You can see the forecast calls for the worst of the weather to pass through the heart of Houston at about 6:30 p.m.:
That northwest breeze after today's storms will blow Cedar pollen into the Houston area from central and north Texas. If you are sensitive to Cedar pollen, get your meds ready.
Cold weekend with wintry weather for some Texans
After Wednesday, another chance for rain and storms comes our way for late in the weekend, with a potential storm moving through. But as of now, it looks like Sunday will be the only day to worry about making up plans to keep the family entertained inside. Sunday will be wet and temps will stay in the 40s — there is a chance of wintry weather, including snow, for Central Texas and areas beyond — perhaps even getting as close as the Brenham area. We will have to wait and see. It is unlikely we will see snow here in Houston proper, however.
Houston 7-Day Forecast
Live Houston-area radar