Elsa could make landfall tonight as Category 1 hurricane north of Tampa
View The
Original Article Here
Tropical Storm Elsa will gain enough strength over the open water of the Gulf of Mexico to make landfall as a Category hurricane Tuesday night just north of Tampa, Fla., according to the 2 p.m. update from the National Hurricane Center.
The latest update showed the storm had maximum sustained winds of 60 mph – an increase from Monday's winds when the system made landfall in Cuba. The latest projected forecast path from the NHC shifted slightly to the west across North Carolina. Elsa was moving north/northwest at 10 mph.
Elsa weakened as it moved over Cuba, but the hurricane center is expecting it to intensify again over open water in the Gulf of Mexico.
The center of the storm was 65 miles west/northwest of Key West, Florida.
Many of the computer models have the system making landfall in the "big bend" area of Florida on Wednesday morning as a strong tropical storm. The system is then projected to go into Georgia, South Carolina and North Carolina. Maximum sustained winds are expected to reach 70 mph before landfall. Elsa will pick up pace and weaken as it moves further onto land.
The WRAL Severe Weather team is watching closely to determine the storm's trajectory. Each forecast path update brings more clarity on the timing and impact of the storm in North Carolina. The forecast cone shows the storm could cross North Carolina anywhere from the Triad to the coast.
WRAL meteorologist Mike Maze said rain will begin in the southern counties of North Carolina – Richmond and Scotland counties – by 7 a.m. on Thursday. Heavy rain will be widespread across central and eastern North Carolina through the late afternoon, with the chance for lighter showers continuing until about 8 p.m.
A Level 1 threat for severe weather is in place for the coastal plain for Thursday. Parts of North Carolina could see up to three to four inches of rain.
"We could have some wind gusts up to 35 miles per hour and perhaps some isolated tornadoes as well," said WRAL meteorologist Aimee Wilmoth.
The storm also presents a significant flooding risk, largely east of the Triangle. Most of eastern North Carolina is under a medium risk for flooding.
"The track of Elsa is farther west now, with the center of the tropical depression moving over us on Thursday," said WRAL meteorologist Mike Maze. "On this track we have a greater risk for isolated tornadoes and rainfall."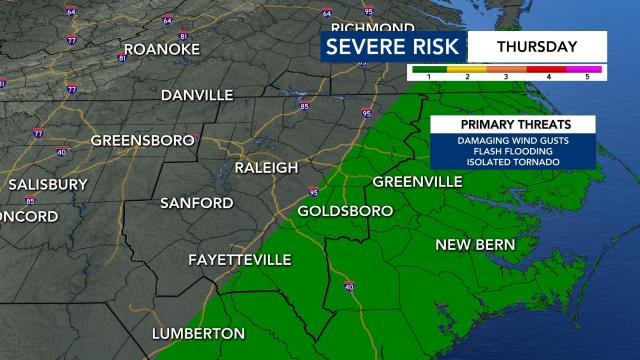 Tropical Storm watches and warnings were issued along Florida's west coast Monday. Tornado Warnings were issued in Florida early Tuesday. Tropical storm watches are issued for the coast of South Carolina.
The storm would likely move away from North Carolina by Thursday night, when it could strengthen back into a tropical storm.