Tornado Warning issued for Alexander, Burke, Caldwell and Catawba counties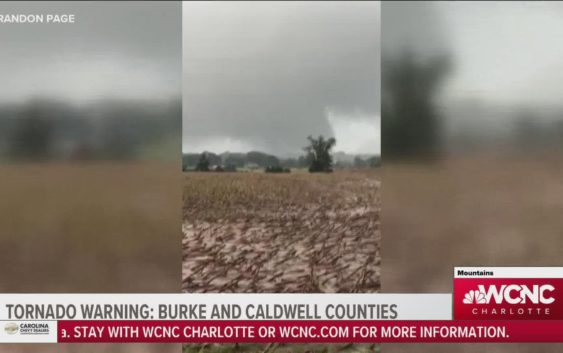 View The
Original Article Here
Damage was reported in Iredell and Alexander counties from possible tornadoes earlier Tuesday associated with Tropical Depression Fred.
CHARLOTTE, N.C. — A Tornado Watch and a Flash Flood Watch remain in effect for counties along and to the west of Interstate 77 in both North Carolina and South Carolina.
The National Weather Service issues watches whenever there is the possibility for those forms of severe weather in the hours to follow.
Storm damage was reported earlier Tuesday from possible tornadoes across.
Around 11:30 a.m., law enforcement in Alexander County reported seeing a tornado on the ground along Old Mountain Road, which is located near the border of Alexander and Iredell county lines.
Brandon Pope recorded video of that possible tornado and shared the video with WCNC Charlotte.
This same storm is responsible for storm damage to houses and buildings along Smith Farm Road near Stony Point in Alexander County.
In Caldwell County, trees and powerlines have fallen along McGalliard Falls Ave. in Valdese as a result of the severe storm.
Additional storms were expected across the Charlotte metro through 7p.
The National Weather Service has issued a Tornado Watch for counties west of Interstate 77. In North Carolina, the Tornado Watch includes Cleveland, Burke, Ashe, and Watauga counties. In South Carolina, the Tornado Watch includes York and Chester counties.
While a Tornado Watch has not been issued for Charlotte or Mecklenburg County, Panovich said he cannot rule out the chase of flooding or tornadoes in Charlotte Tuesday.
A Tornado Watch is issued by the National Weather Service when there is a possibility of tornadoes in the coming hours.
When a tornado is observed or likely occurring, a Tornado Warning is issued for particular locations that need to seek shelter.
If you find yourself inside a Tornado Warning, you want to get to the most interior room on the lowest level of a sturdy structure. The most ideal location is a basement. In the absence of a basement, examples of safe places include interior bathrooms and closets.
Tropical Depression Fred
The storm threat Tuesday is associated with Tropical Depression Fred.
What's left of Fred is unleashing significant rainfall across the Southeast, as well as the threat of severe weather, including tornadoes and flash flooding.
Fred made landfall as a tropical storm along Florida's panhandle Monday afternoon with maximum sustained winds of 65 mph. Fred is now a tropical depression with sustained winds of 35 mph and 45 mph gusts as it moves north over Georgia.
The western Carolinas, especially the mountains and foothills of North Carolina, will see multiple days of heavy rain and extended showers.
Flash Flood Potential
In the Carolinas, Fred will bring a plume of tropical moisture to western North Carolina. Even though Fred itself may only skirt the state, this wave of tropical moisture, combined with a nearby stationary front, will dump upwards of 10″ of rain in some areas.
First Warn forecaster Larry Sprinkle said some areas in the southwestern corner of North Carolina could see nearly a foot of rain. That's why the flash flood potential for some areas is considered extreme for Tuesday.
A Flash Flood Watch is in effect for western North Carolina, including Ashe, Avery, Mitchell, Watauga and Wilkes counties, until 8 a.m. Wednesday.
"Flooding is the main potential," Sprinkle said. "A few isolated tornadoes aren't out of the question for some areas today, too."
Storms capable of producing heavy rain over a short period will move into the area Tuesday afternoon and the waves of rain will linger for hours. Expect batches of heavy rain across the mountains and Piedmont, including the Charlotte metro area, during the morning, afternoon and nighttime hours Tuesday.
"Steady rainfall from lunchtime through the afternoon and into the evening," Sprinkle said. "We're talking eight to 10 hours of extensive rain, that's why the potential is there for flash flooding."
Since the ground is already saturated from the weekend storms, additional rainfall will likely lead to flooding. Watch for those typical trouble spots and low-lying areas and be prepared to make detours.
By the end of the week, upwards of 10″ of rain are possible for the mountains and the foothills. 2-4″ are possible for portions of the Piedmont and metro Charlotte. Most of the South Carolina Piedmont and the sandhills will see closer to 1-3″, but possibly higher if storms repeatedly dump heavy rain over the same locations.
Flash flooding is very likely, along with mudslides and landslides on vulnerable slopes.
In preparedness for the potential flood event, a Flood Watch is in effect until 8 a.m. Wednesday for western North Carolina including the mountains and foothills. Areas in the mountains may sustain significant flooding during this period. Flood alerts may extend for other parts of the area as the system gets closer to the Carolinas.
The National Hurricane Center, the branch of the National Weather Service which forecasts tropical weather, is responsible for issuing the official forecast cone for Fred. The forecast cone is eligible for updates four times a day: 5 a.m., 11 a.m., 5 p.m., and 11 p.m.
Grace:
Elsewhere in the tropics, Grace remains at tropical depression status on a track towards the west-northwest. Grace forecast to become a tropical storm Tuesday and eventually reach hurricane status by the end of the week before a potential landfall in Mexico.
Henri:
Henri is the newest named storm in the tropics as it sits just southeast of Bermuda. Henri has maximum sustained winds of 40 mph and gusts of 50 mph. Tropical Storm Henri is forecast to churn out in the Atlantic over the next 5 days surrounding Bermuda and twist back to the NE by next weekend. No direct threat to land at this time.