EF-2 tornado confirmed in Iredell County on Thursday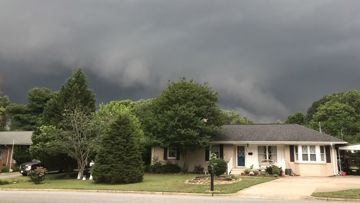 View The
Original Article Here
The NWS confirmed an EF2 tornado with 115 mph winds touched down in Iredell County Thursday night. An EF-0 tornado was confirmed in Cleveland County.
CHARLOTTE, N.C. — National Weather Service crews confirmed an EF2 tornado with 115 mph winds touched down in Iredell County, North Carolina, Thursday night.
Multiple tornado warnings were issued in the Charlotte area during an outbreak of severe weather Thursday. A viewer sent video to Chief Meteorologist Brad Panovich appearing to show a funnel cloud near Harmony in Iredell County. The video was taken near Union Grove Road around 8 p.m.
The storm was confirmed to touch down near Interstate 77 and Highway 901, Panovich said.
Later in the day on Friday, the NWS confirmed an EF-0 tornado touched down in Cleveland County. Winds reached around 65 miles per hour near Lattimore.
Iredell County Fire Services and Emergency Management confirmed four homes, one church and a fellowship hall were damaged Thursday night. One person sustained a minor injury.
Iredell-Statesville Schools operated on a one-hour delay Friday morning to allow crews to get out and assess the damage from the storm.
All Charlotte-area counties were no longer under tornado warnings as of 8:45 p.m. Iredell County's warning issued by the National Weather Service (NWS) expired at that time, the last of a handful of counties that faced warnings.
For all future days you need to be weather aware, ensure you have a battery-powered radio, supplies, and chargers in your safe zone. If you're curious about how to find a safe place, here's a good guide.
PHOTOS: A look outside as tornado warnings crossed the Charlotte area on May 26, 2022

Northwestern Gaston County and western Lincoln County were both under a tornado warning during this string of severe afternoon storms, but that warning expired at 5 p.m.
If you safely take photos or videos of the severe storms in your area, use the Near Me feature in WCNC Charlotte's app to send them to us or text them to 704-329-3600. Just make sure to say where you took the photo or video so WCNC Charlotte Weather Team's Chief Meteorologist Brad Panovich can add it to his reporting.
As severe storms moved through the Carolinas, power outages in the thousands started to roll in, reflecting the possible damage from the high winds.
The WCNC Charlotte Weather Team wants you to stay safe and informed when there are Weather Aware days. Continue to pay close attention to our newscasts, app and streaming platforms when severe weather is in your area.
The Charlotte region is also at risk of severe weather Friday morning, with the threat of damaging winds, isolated tornadoes and flash flooding, according to Chief Meteorologist Brad Panovich. Just like Thursday, the highest impacts include gusty winds and heavy rain. A spin-up tornado and small hail will be a possibility as well