Harvey Will Likely Become Hurricane Soon
View The
Original Article Here
FORT WORTH (CBSDFW.COM) – As of 7:00 a.m. on Thursday, Harvey is a tropical storm, but is rapidly intensifying and will likely become a hurricane by the end of the day. The storm is churning off to the north/northwest and is on track to make landfall by very early Saturday morning, somewhere in the Corpus Christi area.
Harvey will then slowly wander around the coast throughout the entire coming weekend before slowly moving east toward Louisiana by Tuesday or Wednesday of next week.
A few impacts to consider with Harvey:
Hurricane-force wind gusts along the coast from Corpus Christi to Victoria and Port Lavaca (80-100 mph winds)

Storm surge along a good portion of the Texas coast of 4-8 feet

Widespread heavy rainfall across southeast Texas, 10-15 inches with some spots of more than 25 inches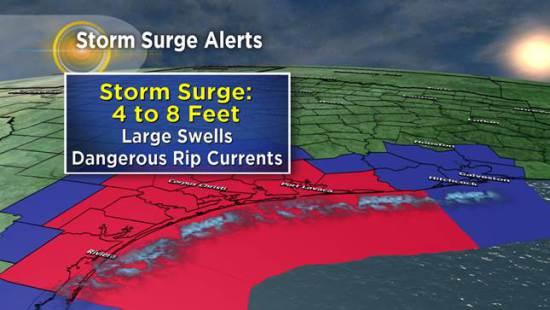 This is looking more and more like a very significant storm for Texas — possibly as powerful as Ike, which hit back in 2008. There is also comparison to Tropical Storm Allison which hit the Houston area in 2001 and caused catastrophic flooding. No two storms are alike, but if those two are your analogs, it is not good news.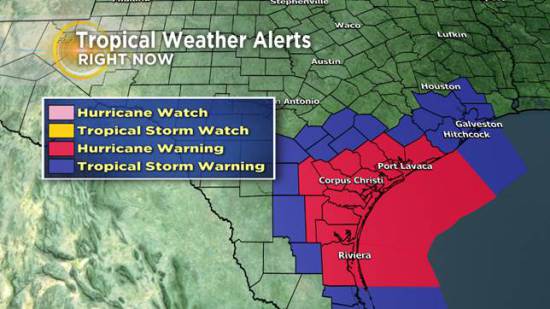 It is still too early to know exactly where the eye of Harvey will hit, or where the heaviest of the rain bands set up, but we should all remember not to just concentrate on where the eye ends up, because this will have widespread impacts across most of southeast Texas.
At this time, it appears as though most if not all of the rain will stay south of the DFW area. The southern counties of North Texas may see 2-4 inches of rain (Palestine, Fairfield, Corsicana), but that will pale in comparison to the coast. If Harvey drifts a little farther north, there could be more rain closer to DFW, but that solution is not seen as likely.
We will keep following it, of course.
Listen to the latest updates on 1080 KRLD.