First Alert Forecast: Florence expected to make landfall Friday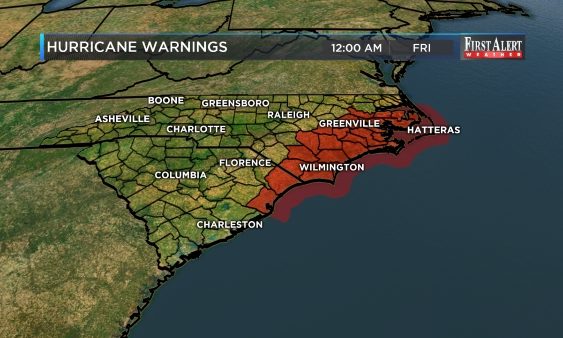 View The
Original Article Here
WILMINGTON, NC (WECT) –
Dangerous Hurricane Florence is producing major to devastating rain, wind, and surge impacts across the Cape Fear Region. Please continue to expend your energy not on anxiety, but on safety and positive action for the duration of the storm and beyond.
National Weather Service-issued Hurricane Warnings remain in place for all of southeastern North Carolina and Storm Surge Warnings are out for New Hanover, Brunswick and Pender counties until further notice.
TIMING: As Florence hovers off the southeastern North Carolina coast, its expected to make landfall somewhere in Pender or New Hanover County Friday. Its moment will be sluggish as its trajectory shifts to the west and southwest. High pressure system will block its exit until at least Saturday or Sunday.
WIND IMPACTS FOR THE CAPE FEAR REGION: Florence has already brought very strong and destructive winds. Howling tropical storm and roaring hurricane wind conditions and will continue to do so for the next 24 to 48 and possibly 72 hours. Isolated tornadoes may also develop with little or no warning. Loose items can become missiles. Most trees will be stressed or damaged, some will be uprooted. Scattered to widespread structural damage is also likely. You must have a sturdy shelter with an interior room as this windy storm moves through.
RAIN IMPACTS FOR THE CAPE FEAR REGION: Florence has the potential to produce excessive rainfall through the weekend. Far inland communities will likely average 2 to 6 inches of rain but most of the area will see close to 12 inches or more; even locally 24 inches. Widespread lowland flooding is unavoidable. If you're sheltering, make sure you do so in a place that is safe from rainfall flooding.
OCEAN IMPACTS FOR THE CAPE FEAR REGION: Florence has already brought and will continue to bring a violent storm surge in excess of 9 feet, especially as its eye wall jams close to the New Hanover County and Pender County barrier islands. As the center of Florence wobbles westward toward Long Bay and the Grand Strand, storm surge in excess of 4 feet and possibly in more than 8 feet remains possible for the Brunswick County islands Friday into Saturday. Expect major dune breaches and sand displacement. Widespread, dangerous saltwater flooding will occur independent of tide cycles. If you are in a mandatory evacuation zone, heed the call to leave.
RIVER IMPACTS TO THE CAPE FEAR REGION: Moderate to major river flooding is likely. On the Northeast Cape Fear River at Burgaw, the forecast crest is currently at 24 feet on September 18 (record flooding, previous record is 22.5 feet). On the Lumber River at Lumberton, the forecast crest is 19.2 feet on September 17 (major flooding). On the Cape Fear River at Elizabethtown, the forecast crest is currently at 29.6 feet on September 18 (minor to moderate flooding). The Waccamaw River at Pireway is also likely to flood but the amount is still unknown.
BOTTOM LINE: If you chose to shelter, continue to do so, until the storm has passed, and take every precaution you can. If you have left, be patient and be prepared for the possibility that you may not be able to return quickly. There are no easy answers with a storm like Florence, but we will keep you updated the very best that we can. Thank you for trusting your First Alert Weather Team on television, the web, social media, and your WECT Weather App!
>> VISIT THE COMPREHENSIVE DIGITAL HURRICANE PREPAREDNESS CENTER <<
>> DOWNLOAD THE FREE WECT WEATHER APP NOW <<
ELSEWHERE IN THE TROPICS: Tropical Storm Helene, Tropical Storm Isaac and Tropical Storm Joyce do not appear to pose a long-term threat to the Carolinas. This week, Helene will track northward through the open eastern Atlantic Ocean. Isaac will likely track due west into the Caribbean Sea in the same time. Joyce will track to the northeast out in the open Atlantic.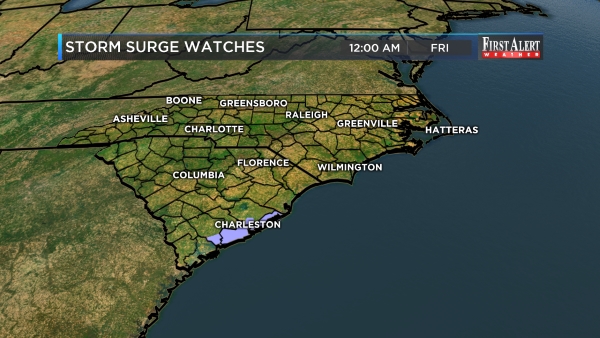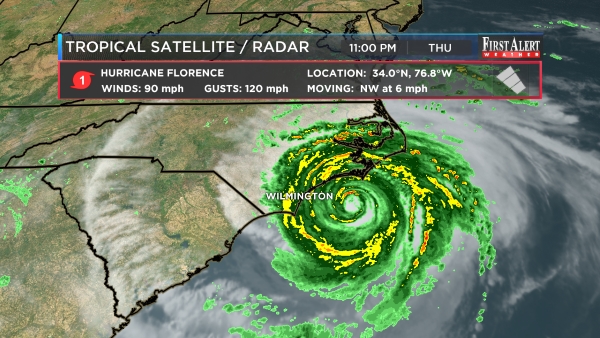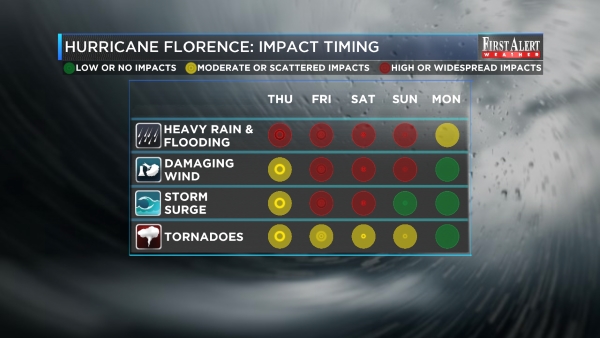 NEUWIRTH MOTORS FIRST ALERT SKY CAMERA NETWORK: CLICK HERE to enjoy views from the Battleship North Carolina, Wrightsville Beach, Surf City, Ocean Isle Beach, Southport, Whiteville, and Elizabethtown. (Note: cameras not available on mobile devices.)
Copyright 2018 WECT. All rights reserved.