Eye of Florence makes landfall near Wrightsville Beach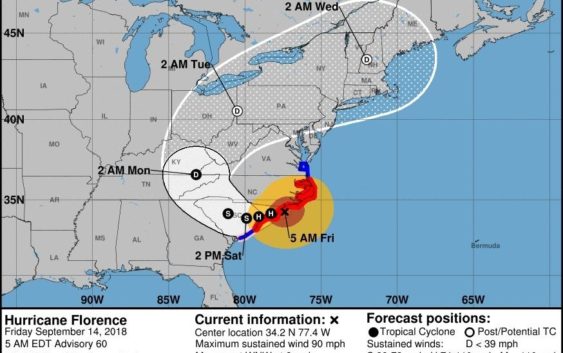 View The
Original Article Here
National Hurricane Center announces that Florence makes landfall near Wrightsville Beach. Eye of storm over Wilmington as wind, storm surges and prolonged, heavy rain bring 'life-threatening' conditions to region
Packing the strongest winds the region has seen since Hurricane Fran more than two decades ago, Hurricane Florence roared into Wilmington on Friday.
The slow-moving storm, dumping potentially life-threatening amounts of rain across much of Eastern North Carolina, made landfall near Wrightsville Beach around 7:15 a.m., according to the National Hurricane Center.
Officials in New Hanover County reported massive power outages outages, with flooding woes increasing by the hour. Road closures also are widespread.
According the National Weather Service, Wilmington set a daily rainfall record Thursday with 3.28 inches of rain, braking the old record of 2.35 inches set in 1915.
Wrightsville Beach Town Manager Tim Owens said the town's public safety officers went out while the storm's eye passed overhead Friday morning to survey initial damage.
"On the front side (of the storm), there was some property damage and very little flooding," said Owens, who is at the New Hanover County Emergency Operations Center.
He said town officials were surprised that damage was limited to mostly minor wind and wave damage to oceanfront homes. Some public buildings, including the public safety building and the parks and recreation building, suffered minor damage, he said.
"It's great news," he said. "But we still have the back side (of the storm) to go through."
He said officials have returned to safe quarters and are waiting for winds to subside to below 45 mph to go back out to assess more damage. The storm is forecast to linger over the region through Saturday morning.
"Once this thing passes, and as … safely as possible, we'll try to bring other services back online," Owens said.
Pender County officials said they have heard of structural damage in Hampstead but won't go out to survey damages Friday until winds dip below 45 mph.
Fire and rescue teams ceased emergency operation at 10 p.m. Thursday as wind speeds increased and downed trees and other debris made traveling dangerous.
Tom Collins, the Pender County emergency management director. Said large swathes of Pender were without power.
"Just stay in today," urging residents to remain in place until conditions improve, he said.
7 a.m.: Florence roars into Wilmington
Wilmington should be ready for a prolonged and devastating impact as Hurricane Florence roars over Southeastern North Carolina on Friday.
"It's probably going to take another 24 hours" for Florence to pass through the Wilmington region, Reid Hawkins, science officer with the National Weather Service office in Wilmington, said at 5 a.m. Friday.
According to radar images as of 7 a.m., the storm's eye was drawing near the New Hanover-Pender County line. Meteorologists at the National Weather Service's Wilmington office are waiting for the National Hurricane Center to confirm the track of the eyewall, which typically has the storm's strongest winds.
>>READ MORE: Click here for complete coverage of Hurricane Florence.
As Hurricane Florence crashed onto the Carolinas, federal emergency teams prepared themselves to work on a long process of rebuilding the storm-battered landscape it would leave behind.
"We call them disasters because they break things," FEMA Administrator Brock Long told reporters while Florence was bearing down on the coastline. "The infrastructure is going to break. … The power is going to go out. It could be out for a number of days."
FEMA's first priority after Florence passes will be getting infrastructure that's critical to communities' well-being up and running, Long said.
"We've got to quickly understand the damage that's been done to the transportation systems, the communication systems, the power systems, and we are positioning, and have bene positioned for multiple days now, to get those critical lifelines back up and stable as quickly as we can," he said.
Federal agencies from the Army Corps of Engineers to the Environmental Protection Agency said they had people near the storm's path to help after the hurricane hit.
Corps staff worked with Army officials to review dams at Fort Bragg in North Carolina and Fort Jackson in South Carolina to "ensure any effects of Florence on those dams are mitigated," said Ray Alexander, the Corps' inter-agency services chief.
In April, The State newspaper in Columbia reported that an Army investigation had faulted Fort Jackson officials' handling of a 2015 storm that caused an 80-year-old earthen dam to crumble and release 100 million gallons of water.
Two people died in 2015 and nearby homes and businesses experienced an estimated $20 million in damage after an area downstream flooded, the newspaper reported.
Corps staff can also help places needing temporary power, temporary roofing and housing and ill be part of preliminary damage assessments, Alexander said.
Strom surge that was projected between nine and twelve feet in Pamlico Sound and the Pamlico and Neuse rivers was expected to cause a "tremendous amount of inland flooding," said Neil Jacobs, assistant secretary at the Commerce Department over the National Oceanic and Atmospheric Administration.
Flood warnings on the Neuse at Kinston projected water levels climbing to a moderate flood level by Saturday and creeping close to major flooding through at least Wednesday.
Emergency response teams have been "fully pre-positioned" to help local governments and companies like utilities cope with the damage Florence will leave, Long said – but the storm has to leave.
Long said people in storm-damaged areas need to "get their mindset right. Disasters are very frustrating. It takes time to get the infrastructure back up and running. But we are going to do everything we can."
GateHouse Media's Steve Patterson contributed to this report.