Danger remains in Florence's aftermath even as blue skies appear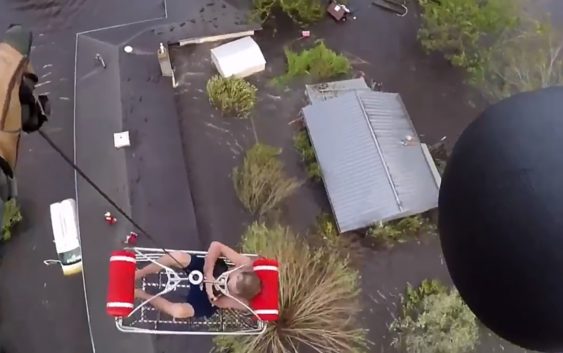 View The
Original Article Here
Under sunny skies Tuesday, North Carolina towns watched, with dread, as rivers continued to rise a day after Florence finally exited the state.
The National Weather Service said Tuesday that the radar-estimated total rainfall from the storm was 8.04 trillion gallons, a record deluge in places. That water was responsible for some of the 26 confirmed deaths because of the storm. About 2,200 people have had to be rescued, according to Gov. Roy Cooper.
Major and secondary roads were still flooded, and officials cautioned residents not to be lulled into complacency by the clear skies Tuesday. Moving around was still dangerous.
"One thing we know is that sunshine doesn't necessarily mean safety," Cooper said at a midday briefing Tuesday.
He said 16 rivers are at major flood stage, and three more are predicted to reach that level tomorrow and Thursday. About 1,100 roads are closed, including portions of Interstate 40 and Interstate 95, and more roads will shut down depending on the rising water.
Some areas have improved, but Cooper said people who have fled Eastern North Carolina communities should not return to their homes yet, especially those in Pender, New Hanover and Brunswick counties.
The Cape Fear, Little, Lumber, Northeast Cape Fear, Tar and Neuse rivers were expected to crest throughout the day Tuesday, said Mike Sprayberry, state director of emergency management.
One trouble spot was the community of Spring Lake near Fayetteville, where the Little River had risen higher than projections due to a thunderstorm Monday night.
"This is easily record breaking," said James Stonecypher out of the USGS' Raleigh office, who said the river was projected to reach 35.4 feet.
Despite those record levels there have been no fatalities in Spring Lake related to the river rising, said Troy McDuffie, chief of the Spring Lake Police Department.
"We have had no lost lives," he said. Now "we are in a waiting mode … and waiting for the waters to recede."
The Little River in Manchester upstream near Spring Lake hit a record level Monday, according to the National Weather Service. The river was at 34.96 feet as of 3:30 p.m. Monday. During Hurricane Matthew, it reached 32.19 feet.
On Tuesday at 7 a.m., the Little River stood at 35.95 feet and was expected to crest at 36.7 feet, the weather service said.
The Cape Fear in Fayetteville reached 59.37 feet as of 8 a.m. Tuesday, the service reported. That tops Hurricane Matthew's crest of 58.94 feet on Oct. 10, 2016. The river was expected to crest at 61.5 feet about 2 a.m. Wednesday.
In Fayetteville, the city asked people not to drive around or move road barriers, which mark flooding and sinkholes.
"There is a strong potential that those who live within the 1-mile evacuation area of the Cape Fear River will be impacted by flooding. Additionally, high speed, fast-moving water with debris will likely cause bridge damage and it is advised that residents do not walk or drive on bridges that have been flooded," the City of Fayetteville said in a news release Tuesday morning.
Officials said the danger of flooding probably won't subside until late into the weekend.
There had been 81 people rescued in Cumberland County as of Tuesday morning, with the majority occurring around North Bragg Boulevard and Manchester Road. The water rescues were conducted by county, City of Fayetteville and FEMA Urban Search & Rescue Teams, the city said.
Across the state, officials were trying to keep people healthy and fed. Four mass feeding kitchens have been set up in Washington, New Bern, Kinston and Lumberton, Sprayberry said, and more will be established.
Dr. Mandy Cohen, secretary of the N.C. Department of Health and Human Services, put out the call Tuesday for nurses to volunteer to help in communities cut off from health care.
Cooper reported significant agricultural losses. He said a quarter to half of tobacco crops were still in the fields, and other crops damaged included cotton and peanuts. The full scope is not known.
The governor said he visted New Bern, where he helped N.C. Baptist Men serve meals. "The damage there is devastating," he said, but volunteers and neighbors are pitching in to help.
"For many people, I know this feels like a nightmare that won't end," Cooper said, adding, "But please know we will not give up on you."