Jazzed up Carolina Hurricanes jumping at the chance to celebrate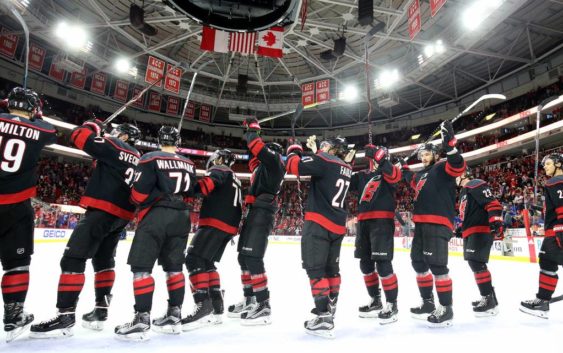 View The
Original Article Here
Justin Williams still likes to have fun.
He's 37 now, in his 14th NHL season and has played more than 1,200 games, whether regular-season or playoff. That's a lot of miles.
But if you can't have fun playing the sport you love, what's the use? That's the way the Carolina Hurricanes captain feels, and Williams said he senses the same from the other players.
When the Canes raced past the New York Rangers 8-5 on Sunday, it was Williams who led the unexpected celebration that followed at PNC Arena — the players holding their sticks high while clapping, then suddenly dashing down the ice to hop into the glass. That's still the talk of the all-too-staid NHL, which oft times seems stuck in a time warp.
After the Canes' morning skate Tuesday at PNC Arena, with a game to play against Vancouver at night, Williams, a 6-1, 188-pound right wing, didn't quickly dress and disappear. He soon was battling it out with defenseman Brett Pesce at the bubble hockey game in the players' lounge — one custom-made by owner Tom Dundon.
Williams said management had mentioned doing something a little different after wins at PNC Arena.
"Maybe the stick wave got a little stagnant, a little stale," he said. "We're trying to make things exciting here and fun. That's the main goal, so that's what it was."
ESPN noticed. So did TSN and NHL.com. Score eight goals and take a mass leap into the glass and people notice.
Canes coach Rod Brind'Amour certainly didn't mind. It came after a victory and was something extra for the 13,526 fans who came out on an NFL Sunday to see the game.
Williams said it wasn't completely impromptu, noting it was "planned a little bit" in advance and adding. "We're going to fine-tune things a little bit and make it a little more organized." But Williams promised the Canes would continue it. And have fun with it.
"Clean it up a little bit and add some wrinkles to it, but at the end of the day it's not hot-dogging or anything," he said. "It's just having fun with the people who came to the game."
Marketing folks call it connecting with the fans. Williams used that term, too.
"It's fun, doesn't take too long and people seem to enjoy it," he said. "We're hoping people stick around at the end of some Canes wins and we can have some fun together."
Defenseman Calvin de Haan was a slow starter at the post-game skate and said Tuesday he wasn't sure at first what was happening.
"No idea," he said. "It was cool. It was something different. It kind of seems like teams are starting to be a little more creative with that kind of stuff."
De Haan promised not to be a trailer on the next one, saying, "Hopefully next time around I can be one of the first into the glass."
Williams said he couldn't remember the last time he jumped into the glass. He's more of a stay-grounded, fist pumper.
"It's not really my thing," he said.
But he did show off a little vertical leap this time.
"Yeah, right," he said, laughing.