'It's relief:' Hurricane victims welcome Thanksgiving as needed relief from real world stresses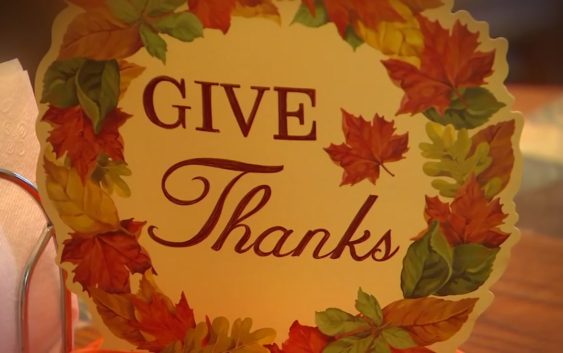 View The
Original Article Here
FAYETTEVILLE, N.C. (WTVD) —
Thousands of North Carolinians this week see Thanksgiving as a welcome reprieve from their bleak realities of recovering from Hurricane Florence, the record-breaking storm that battered the south and east of the state.
More than two months after Florence, the cleanup remains far from over; hundreds of homes and businesses remain off-limits, and debris piles still line many streets. State and federal officials also tell ABC11 that more than $1 billion has already been paid out through private insurance claims and grants from the Federal Emergency Management Agency (FEMA) – and that number is sure to climb.
Despite the struggles of rebuilding and restoring livelihoods, victims we spoke with are only focusing on the positive.
"We're still going to be thankful, because we're going to be with family," survivor Sharon Payne tells ABC11. "We would want to be in our home, but we're still going to be thankful."
Sharon and Chauncey Payne's home sustained major flood damage; theirs was one of the first ABC11 visited to understand the growing concerns about mold and mildew.
"If I don't get any help from FEMA, I'm on my own," Payne lamented at the time (his home also flooded during Hurricane Matthew).
Without flood insurance, Payne did qualify for a $10,000 grant from FEMA. ABC11 was there in October to see the Paynes' progress – floors ripped out and the lower portion of the house ripped down to its studs.
Today, the Paynes are still living with friends, but they've managed to restore power and gas, allowing them to work in a comfortable setting. Amazingly, Sharon has also made her self a functioning kitchen where she will cook much of the family's Thanksgiving meal.
"I'll make some macaroni and cheese, potato salad, cornbead, pig feet, dressing, collard greens," she says with Chauncey be her side.
"It's relief," Chauncey chimes in. "It gives you a moment to sit back and exhale. I know things aren't the way they're supposed to be, but they could've been worse. We're still here and it's going to get better. God doesn't put you through nothing he's not going to bring you out of."
Another family, the Gaddys, are still depending on their renters insurance to keep them afloat as they settle in to into a new home.
"We'll be together and we'll be happy," Maurice Gaddy asserts to ABC11. "Family, friends, food and joy – a Thanksgiving like no other."
ABC11 first met Maurice and his wife, Carrie, at a Red Cross shelter days after the storm. Their home sustained major damage to the roof and the floors.
"We're standing on prayers, standing on faith," Gaddy proclaimed back on September 20th. "We're just waiting. We're not standing around, but we're waiting and we're digging and trying to get a way out of this."
We visited the Gaddys again in October. The family of six were among 185,000 filing claims with their insurance companies; after three weeks living in a hotel, their insurance reimbursed most expenses and also paid for a moving truck. Today, the Gaddys are still settling into their new home, but they have a clean kitchen and several Thanksgiving decorations.
"We're still unpacking and we're still trying to put things in order," Carrie Gaddy explains. "But we're blessed."
After the holiday, it will be back to work for both the Paynes and Gaddys, along with every other affected family from Fayetteville to Wilmington to Lumberton and beyond. The weeks before Christmas will also be a critical time for lawmakers to approve additional aid at both the state and federal level.
Last Wednesday, North Carolina Governor Roy Cooper visited Washington D.C. to rally support for significant federal assistance for recovery from Hurricane Florence. In meetings at the Capitol and the White House, Cooper touted North Carolina's own investment in relief efforts to shore up backing for an additional $5 billion.
North Carolina's General Assembly has also approved more than $800 million in hurricane relief. State lawmakers are expected to allocate more in a special legislative session that begins on November 27th.
(Copyright ©2018 WTVD-TV. All Rights Reserved.)