French friends send Wilmington students hurricane aid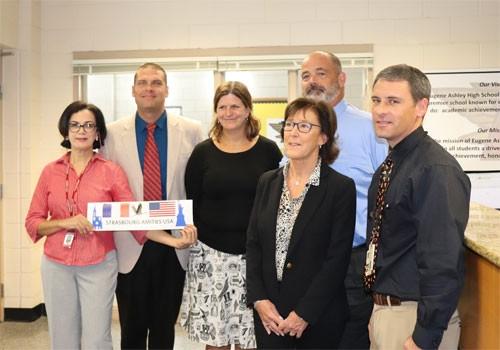 View The
Original Article Here
Strausbourg exchange program raises $7,300 for local families
WILMINGTON — Even in France, Hurricane Florence was major news. For several families in the Strasbourg area, seeing the destruction in Wilmington on TV was especially close to home — it's the city their children stayed in for an exchange program.
Since 2009, students from Strasbourg Amities USA have come to Wilmington for language exchange programs at Ashley High School and Murray Middle School.
In the weeks after Florence, their families raised $7,300 to help those school communities recover.
"The families in France, they just love the friendship that sprang up from those relationships and they just kept coming year after year," Ashley French teacher Soumia Paull said. "When they heard about the hurricane, they really wanted to help out a family that was really injured."
In late October, staff from Strasbourg Amities flew to Wilmington to deliver the grant. The money will be divvied up between the two schools, and New Hanover County Schools staff will handle disbursing it to families.
Kelli Kidwell, another French teacher at Ashley, worked with Strasbourg Amities President Michèle Huntz back in 2008 to get the exchange program off the ground.
She said today, 30 students come over from France each spring and summer for two weeks. A handful of Ashley students head overseas each summer. As Paull noted, foreign exchange is more common in European cultures.
"You have the European Union so you can hop from one country to the other," she said. "Our families are not used to that."
Kidwell said Huntz emailed her daily during the storm, asking for updates on Wilmington. She said several Murray and Ashley families were displaced, with some staying in hotels and tents for a time.
Huntz reached out to her Strausbourg families, who quickly raised money.
"The parents I guess just feel an attachment to our city since they've been coming here for so many years," Kidwell said.
The grant money will be open to all families in need at Ashley and Murray — not just those of French language students. Kidwell said the district is still determining how best to distribute it.
"I just think it's so vital for me as a teacher to make sure that my students see the customs and cultures of other countries, and that we're all just human beings and we can all be compassionate and caring toward one another," she said.
Reporter Cammie Bellamy can be reached at Cammie.Bellamy@StarNewsOnline.com.