In a year of Florence wreckage, Scotland football team did the Sandhills proud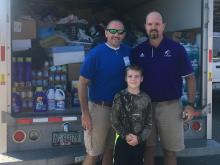 View The
Original Article Here
After waters receded, roadside reeds, still laid over as if the torrent was still rushing over them, and mud-caked tree trunks were nature's reminders of Hurricane Florence's vicious Sandhills visitation that had come two weeks prior to my trip across the region on Sept. 28.
This is my homeland. I'm Sandhills born and bred.
No two pockets of the Sandhills are the same, but we had more in common in that time than we ever had.
We were hurting, battered by high winds, desecrated by flooding that wouldn't relent.
It was jarring to see Bladenboro under water, Laurinburg impassable, the Cape Fear River nearly breach the skyscraper stilts of the Lillington bridge, the placid Little River swallow up and rapture the Starlite Motel in Spring Lake, and Lumberton repeating its Hurricane Matthew misfortunes.
School wasn't even open in most places when football returned. So that night, I drove across Harnett, Cumberland, Robeson, Scotland, and Hoke counties, stopping at two games and talking to people from four different schools — South Columbus, St. Pauls, Scotland, and Purnell Swett — who were affected in different ways.
It was high school sports at its best: serving as a distraction from real-world problems, unifying communities one Friday night at a time.
---
When Eastern N.C. was slammed two years ago by Hurricane Matthew, there was a strange comfort in knowing the recovery in those areas would be swift, aided by a strong civic pride in small towns whose locals and expatriates proudly call the ENC "God's Country."
But there isn't quite the same connectivity in the Sandhills, an area anchored by a transient Fort Bragg population. Many move here for the solitude – the self-sufficiency is part of the allure — not to be part of a tight-knit community.
But this was not something to get through alone, and I worried that natural disposition would hamper how quick a recovery might otherwise go.
Coastal towns we all know and love have no trouble finding support in their encounters with natural disasters.
"They know those places," Purnell Swett coach Jon Sherman said. "But down here, I'm not putting it in a negative way, but it's a poorer community, more rural community. Houses were flooded. Farming was an issue, people lost their homes."
There are signs and stories from that night that gave me hope.
"We've got a ton of support," said Adam Thompson, principal of South Columbus, of his county's people. "They may not have money, but they'll go buy supplies"
The town of St. Pauls helped spray the moat encircling the high school's football field – which had turned into a hotbed for mosquito hatching – three times in five days leading up to kickoff against South Columbus.
"Nothing a little hard work won't do," St. Pauls principal Jason Suggs said.
The plague-worthy clouds of mosquitos were still there, but it wasn't at the Biblical proportions from before thanks to the hard work of plenty. The stories of those first swarms will live on.
"One of the people said he killed a mosquito Monday that was so big it had a tick on its back," Suggs quipped.
Flood waters are unrelentingly cruel, a slow-rising violation of house and home that seeps into your walls and sense of security.
Thompson has a "fish shack" on Moore's Creek in Pender County that he had to paddle to find. His perilous expedition took him around power lines, some still live with electricity yet submerged under the water, until he found the shack – by hitting his paddle onto its roof, six feet under the surface.
When flooding starts, a lot of people – including, sometimes, high school football players – find safe haven in high schools that turn into community shelters.
This storm was so bad that even those places weren't safe enough. Some schools suffered leaks, and others flooding. Air quality checks prompted the moving of some people to new locations.
There were players taking the field that first Friday night back who had spent more time that week at their school than their house.
"We had a few players that had to be in the shelter for whatever reason. One of them, the roof came off his house," Suggs said. "It was humbling to see your kids in dire need like that. But our community is awesome. Our community came out and stepped forward."
If nothing else, the games played that night were a step toward recovery.
"Sports throughout our history, and I'm a history major, have always had a healing quality to them," Scotland coach Richard Bailey said. "It's important. Football's not that big of a thing in the grand scheme of things, but at the other end of the spectrum, it does do a lot for healing in our community, especially one that loves football as much as this one."
Sherman agreed.
"A lot of people maybe don't get this, but to get back out there, in face of all the tragedy and issues going on, it kind of takes people away from it. It gives kids something to feed on," he said: "For a lot of our communities (in the Sandhills) they thrive on that sport as a 'get out,' as a release. It just gets them back into a routine, some excitement, and gets them away from everything that's been going on the last couple of weeks."
---
If there's one example of how the storm turned even the most simple of routines into a struggle, look no farther than what it took to get from old Tingen's Grocery near Mamers to Western Harnett High School. When the Upper Little River flooded, that two-mile straight shot down the road turned into a 15-minute excursion, a route that resembled a capital "G" that had fallen face-forward onto N.C. Highway 27.
The road was closed for weeks, then opened for a bit, then closed again for more repairs.
Fielding a football team also became harder than it should have been.
Some coaches were back to playing games on Fridays and didn't yet know where all their players were.
Locating players by the time the games resumed is a surprisingly common problem that hurricane-affected programs have. If a player forgot a cell phone at home when evacuating, or if the battery went dead, or they were just had bigger problems to handle besides answering the calls and texts of non-family members, then there was no way to know where they were.
School hadn't resumed, so there was no reason to expect some of the players were even in the same state.
"I've had football players who literally couldn't get into their house," Bailey said. "They went down to South Carolina, or the Charlotte area. It's tough getting them back."
At Purnell Swett, when Matthew hit two years earlier, so many players were unable to get back into the simple routine of playing football that it affected the school's participation the following year. The Rams went from having 140 players in the program to 88 as many players lost the appetite. Others moved away and never returned.
"We're a high-poverty area, and we have a lot of people that, while yes, insurance will hopefully cover it, there are going to be a lot of displaced people for a long time," Bailey said. "They're going to be living on hotels or with relatives, and they're not going to be able to rebuild houses overnight. And some of them are renting houses, because we don't have a lot of high-income people, so now where do you live? If you lost a rental house and you're renting, that doesn't mean you're guaranteed a house. You might have some renter's insurance maybe, but with our community I don't know."
---
It made sense that one of those teams that was most greatly affected were to make it to the state title if life were a Disney or Hallmark movie, but there was no guarantee that would come fruition.
Yet last week three Florence-affected teams played in those title games: Jacksonville and Pamlico County represented the Inner Banks and Scotland carried the flag for the Sandhills.
The Scots' run was incredible.
In the first round, Jordan went for a winning two-point conversion in the final seconds. In the second round, Cardinal Gibbons tried a game-winning field goal with less than a minute left. In the third round, Pine Forest was stopped short by an inch on a fourth down as it attempted one last drive.
Those teams may have been going up against a 5-5 team from the regular season, but destiny was on the Scots' sideline.
During Florence, Scotland's parking lot drain was clogged and the water backed up and flooded right through the front door, buckling the basketball court, causing the shelter to relocate and forcing the school to play this season's hoops schedule at a nearby middle school.
During Florence, Bailey aided a man who was pushing his car carrying his wife and small child out of the rising water.
Now here was Bailey and the Scots, lining up on the sideline of the same N.C. High School Athletic Association 4A title game that was delayed a week due to the same storm that had wrecked its community.
The title didn't come back home to the Sandhills, as perfect as it would have been.
But as I watched HighSchoolOT footage of the Scots coming back home on buses that took them down roads that were once impassable months earlier, being welcomed by a smattering of fans who had been through so much in their own lives yet were choosing to welcome the Scots back well past midnight, I grew more hopeful things that things were going to be OK again in my favorite corner of the state.