Despite Florence, Topsail Island ready for summer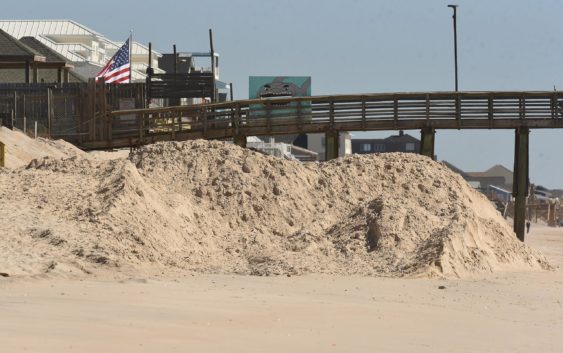 View The
Original Article Here
6 months after the hurricane, Pender beach towns rush to get beach, accesses ready for tourists
PENDER COUNTY — If his beach experience is just a trifle less awesome this year, it is only because the typically wide expanse of Topsail Beach has spoiled him, Topsail Town Manager Michael Rose said last week.
Six months after Hurricane Florence pummeled Southeastern North Carolina, much of the hurricane's damage has been dealt with, removed or repaired. But signs of the storm's passing remain.
Topsail Island, which was hit by Florence's powerful northeast quadrant as the storm made landfall at Wrightsville Beach, is no different.
"Considering the extent of the storm and what it did, I think we are in pretty good shape right now," Rose said as the new tourist season looms. "All of our beach accesses are open. Some of them had to be modified a bit; one that was a ramp-style crossing now has steps because of the storm, but that is temporary in terms of our longer goals. But we got them all open."
Topsail Beach has 24 access crossovers, all of which survived Florence — though most were damaged.
The beach actually stood up to the storm pretty well, given Florence's strength and longevity, Rose said, and Topsail officials directed a good deal of their attention to repairing and restoring sand berms that served their main purpose during the storm — protecting the town that sits behind them. The berms were somewhat reduced by the storm surge, but breached in only two places.
"We were very happy overall with the way the dune structure stood up," Rose said. "That doesn't mean the dune structure wasn't impacted."
Much of the lost beach sand, which washed inland, was collected, screened, and replaced on the berms, he added. Sand that was taken in the opposite direction did not wash far out, Rose said, and is being slowly returned to the strand by wave action. He estimates that the beach lost about 1.5 million cubic yards of sand due to Florence.
"We still have a pretty good stretch of beach for recreational purposes," Rose said. "The waves are not lapping at the dunes."
Ready for the summer
Things are much the same up the island in Surf City, with officials expecting tourists to flock back to the popular beach town even as repairs to the beach and town's homes and businesses continue.
The best indication of a strong upcoming tourism season this year is likely the preseason rental contracts already signed and secured with 50 percent deposits, according to Realtor Cathy Medlin, wife of Surf City Mayor Doug Medlin.
"Houses are booking up earlier than they ever did before," she said. "Past guests are calling, and they are so thrilled to hear that 'their' house is going to be ready for the summer."
Surf City officials admit that the beach did sustain some major erosion from Florence, and all 30 of its beach access crossovers were damaged. Those have been repaired, and Town Manager Ashley Loftis said she was hopeful that sand can be added to the beach in the fall through a locally funded nourishment project that had already been in the works.
In the interim, officials have recently trucked in some sand and bulldozed up sand in other areas to stabilize and reinforce dune areas that were hit especially hard by the hurricane.
Safety and surfing
So is Topsail ready for tourists? Yeah, probably, local surfing enthusiast and retired educator John Fahey said over the weekend. Will there be issues? Yeah, probably.
Swimmers may not notice much difference, though there very likely will be an issue or two over the course of the season with storm-related debris that continues to resurface in the waters of all the area beaches, Fahey said. And surfers absolutely will notice a difference between the 2019 experience and the surfing of other years.
"The storm washed away the sandbars, so the beach terrain is different," Fahey said. "It's flatter, and that really affects the 'break' a little bit," for surfing. "The tourists won't really notice that too much, or even at all. Surfers will notice it; the surf is not as good as it used to be because it just doesn't break like it used to. A big swell will still work if the tide is right. Surfing nowadays is really more dependent on the tides, even more than it used to be."
Contact the Metro desk at 910-343-2384 or Breakingnews@StarNewsOnline.com.