Severe weather threat for the Triangle has been increased
View The
Original Article Here
Raleigh, N.C. — The National Weather Service has placed much of the Triangle under a Level 3 risk for storms this afternoon, turbulent weather that will snap the streak of long, dry hot days that have blanketed the region.
"These are storms we'll want to take more seriously," WRAL meteorologist Elizabeth Gardner said, adding that gusty winds, downpours and the risk of a tornado watch being issued are possible.
Western areas are under a level 1 risk, or marginal risk, according to the U.S. Storm Prediction Center.
"Anywhere has the potential for showers and storms today," Gardner said.
The system comes after areas south of Fayetteville saw downed trees and damaged buildings after storms Thursday night.
Showers could pop up around lunchtime Friday, and around 2 or 3 p.m., storms are expected to develop.
Those storms will continue into the evening, with even more clusters of severe weather developing around 8 p.m.
Most will move east out of our area by midnight.
Temperatures will reach 90 degrees on Friday.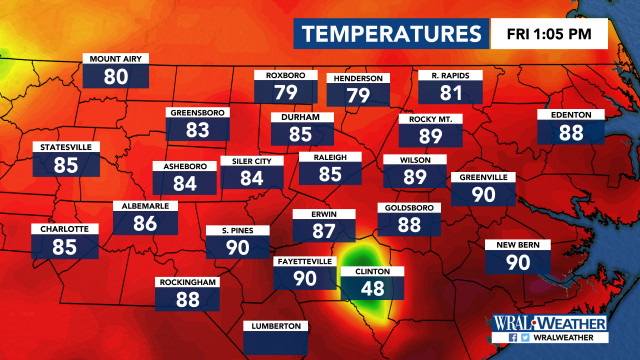 There's a 30 percent chance of rain on Saturday as Friday's cold front stalls. The high will be 87 degrees.
Sunday has another 30 percent chance of rain, with temperatures reaching 88 degrees.
Temperatures are expected to stay in the 80s next week.