LIVE: Tornado warning in Person County until 8; updates on severe weather in area
View The
Original Article Here
Raleigh, N.C. — A large swath of central North Carolina is under a tornado watch as a line of storms approach the region, which is under a Level 3 risk for severe weather.
A tornado warning has been issued for several central North Carolina counties, including central Caswell County, southeastern Rockingham, and southwestern Caswell and northern Guilford County. Anyone in that area was asked to take cover because of the threat of flying debris and other possible damage. These alerts were in effect until 7:15 p.m.
The affected areas include Greensboro, Summerfield, Lake Townsend Marina, Lake Townsend, Lake Jeanette Marina, Monticello, Lake Brandt and Haw River State Park.
WRAL meteorologist Mike Maze said the storms would move into the western areas of our viewing area around 7 p.m. with storms over the Triangle around 9 p.m.
Spotty showers across the region Thursday afternoon could give way to gusty winds and isolated tornadoes in the late evening.
The storms will move into Moore, Chatham and Orange counties by 8 p.m. and into Raleigh, Durham and Fayetteville by 9 p.m.
Storms are expected to start clearing from the area by 11 p.m.
Fayetteville Public Works reported a power outage to some areas just before 5 p.m. Thursday that, according to officials, was due to Duke Energy lines that feed power into the PWC system. Crews were working to restore power by rerouting it from other Duke sources.
Officials said around 40,000 lost power. It was restored an hour later.
Trick-or-treating early in the evening is a good plan, Gardner said, but it's important to keep an eye on the weather regardless. "Even if smaller storms pop-up, it really won't be safe for kids to be out trick-or-treating," Gardner said. "It's one of those nights you're going to really have to pay attention."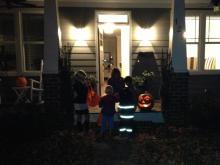 Gardner said anyone heading out for Halloween festivities should check the weather before they leave home and download the WRAL Weather app to get severe weather alerts. Get mobile alerts with the WRAL Weather app
During the patch of severe weather, winds could gust up to 70 mph, knocking down trees. Isolated tornadoes are possible.
"You want to make sure your trick-or-treaters are finished with all their routes by 8 o'clock," Gardner said.
The Town of Chapel Hill announced Thursday afternoon that its annual Franklin Street closure for Halloween festivities might not occur if the weather becomes too severe.
"Depending on crowd size and the potential for hazardous weather conditions, the downtown street closure may not take place," officials said in a press release while urging people to stay indoors if weather becomes inclement.
Past years have seen crowds as large as 80,000 people on Franklin Street on Halloween.
The storms will continue moving east and should be out of central North Carolina by midnight.
A cold front is pushing the storms through the area. Thursday's high is 80 degrees, but temperatures Friday will reach only 60 degrees.
Overnight lows on Friday will dip into the high 30s.