Flash flood warning issued for Raleigh, parts of Granville, Franklin counties as Elsa crosses Triangle
View The
Original Article Here
3:10 p.m.
The National Weather Service has issued flash flood warnings for central Wake County, southeastern Granville County and west-central Franklin County until 5:30 p.m. Three to 5 inches have fallen in the region, and up to another 1.5 inches are expected, officials said.
Flooding has closed part of the Walnut Creek Greenway in Raleigh, and rising waters have reached the underside of the bridge on Rose Lane, according to WRAL News anchor/reporter Adam Owens.
2:50 p.m.
More crashes have been reported because of slick roads in the Triangle.
2:30 p.m.
Although Tropical Storm Elsa's maximum winds are listed at 45 mph, the stiffest winds recorded across central North Carolina since midnight don't top 37 mph, according to WRAL meteorologist Mike Maze.
Fayetteville reported that 37 mph gust, while gusts reached 31 mph in both Raleigh and Durham. By Thursday afternoon, those gusts were down to 25 mph in Fayetteville, with sustained winds at 17 mph there and 10 mph in the Triangle, Maze said.
"Later this afternoon and evening, the winds should pick up in the northeastern part of the state," he said.
2:20 p.m.
Raleigh Mayor Mary-Ann Baldwin said city crews are monitoring potential flooding along Crabtree Creek and sewer overflows from storm water. She advised people to drive carefully on slick and sometimes flooded roads.
The National Weather Service has extended flood advisories for Wake, Johnston and Wayne counties until 4:45 p.m. The advisories were set to expire at 2:45 p.m.
One car was trapped on East Millbrook Road at Hoyle Drive in north Raleigh because of flooding. Raleigh firefighters and another driver helped pull the vehicle out of the water.
All northbound lanes of Falls of Neuse Road were briefly blocked at Bland Road because of water on the roadway, according to police radio traffic. City crews were able to clear storm drains, allowing water to quickly recede.
2 p.m.
Tropical Storm Elsa is closing in on the Triangle, with the center of circulation 23 miles west-southwest of Raleigh as of 2 p.m., according to the National Weather Service. Maximum sustained winds remain steady at 45 mph.
WRAL meteorologist Kat Campbell said the severe weather "should be winding down" later in the afternoon.
"The heaviest rain will be right along the North Carolina-Virginia border by 3 o'clock," Campbell said. "Once we get past 3 o'clock … we're really focused on areas north and east of the Triangle. … Things really quiet down after 4 o'clock."
1:45 p.m.
WRAL meteorologist Aimee Wilmoth said she couldn't find any damage from a suspected tornado near Wilson. Radar showed a debris signature northwest of Fountain at about 12:30 p.m., but Wilmoth, in the WRAL Storm Tracker, said she checked the area and didn't see any downed trees or damaged homes. There might have been damage in wooded areas, she said, but there was nothing she could see,
WRAL meteorologist Mike Maze said he doubts the potential for tornadoes northeast of the Triangle will remain until 11 p.m., even though the National Weather Service has extended the tornado watch for Halifax and Northampton counties until then.
1:30 p.m.
A falling tree smashed an electrical contractor work van on Morreene Road at Erwin Road in Durham, but the driver was uninjured. The man told WRAL News reporter Sarah Krueger that he saw the tree coming down as he approached and was able to slow the van enough where the tree damaged only the front of the vehicle.
Police closed Morreene Road to traffic as crews with chainsaws tried to remove the tree and a tow truck arrived to remove the damaged van.
1:15 p.m.
After dozens of rescues from rip currents earlier this week, officials at Wrightsville Beach report no one has been rescued on Thursday. WRAL News report Joe Fisher said he's seen few people on the beach, as wind gusting up to 55 mph is producing heavy whitecaps. Also, no lifeguards are on duty, he said.
"The wind is going to be increasing as Elsa will be moving almost directly over the Triangle in the next few hours," WRAL meteorologist Zach Maloch said.
12:45 p.m.
The tornado warning in Edgecombe and Wilson counties has been canceled by the National Weather Service.
Tornado watches for Cumberland, Hoke, Sampson and Harnett counties also have been canceled.
12:30 p.m.
The National Weather Service has issued a tornado warning for southwestern Edgecombe County and northeastern Wilson County until 1 p.m. A storm near Farmville was moving north at 35 mph.
WRAL meteorologists Elizabeth Gardner and Zach Maloch said radar showed debris near Farmville, suggesting a tornado may have touched down in the area.
12:15 p.m.
The Judge E. Maurice Braswell Cumberland County Courthouse has been evacuated because of a power outage, officials said. The main transformer to the courthouse was out, causing officials to close the building for the rest of the day.
"Every attempt will be made to reopen the courthouse" on Friday, officials said.
Power also was out for about 1,000 customers in northern Wake County, mostly north of the Creedmoor Road interchange at Interstate 540, and another 1,000 or so along U.S. Highway 15/501 in Durham also were in the dark.
12 p.m.
The National Weather Service has issued a tornado warning for north-central Nash County and northeastern Franklin County until 12:30 p.m. A severe thunderstorm capable of producing a tornado was spotted over Nashville, moving northwest at 40 mph.
"This entire area, east of the Triangle, is a place we will be watching over the next couple of hours," WRAL meteorologist Elizabeth Gardner said, noting an earlier warning had been issued for part of Wayne County.
11:45 a.m.
The National Weather Service has canceled the tornado warning for Wayne County. But flood advisories have been issued for Wayne, Johnston and Wake counties until 2:45 p.m. as Tropical Storm Elsa continues to dump rain across the region.
11:30 a.m.
Even after Tropical Storm Elsa moves on, some problems created by the storm's rains could linger at the coast.
North Carolina environmental officials advised people on Oak Island to be aware of floodwaters being pumped to the ocean surf there. The town has pumped water from area streets into the ocean, and officials said the floodwater could contain pollutants such as waste from wildlife and pets, oil and gasoline from parking lots and waste from septic systems or sewers.
State officials will place signs at the discharge site along the beach to warn the public of the possible health risk, and the signs will be taken down 24 hours after the pumping stops.
11 a.m.
Tropical Storm Elsa is picking up speed as it moves across North Carolina. According to the National Weather Service, the system is moving northeast at 20 mph, up from 16 mph late Wednesday night.
Maximum sustained winds remain steady at 45 mph.
The storm has the potential for producing tornadoes, and the Weather Service issued a tornado warning for northeast Wayne County until 11:45 a.m. A severe thunderstorm over LaGrange was moving northwest at 40 mph, and WRAL meteorologist Zach Maloch said radar was showing rotating winds in the system that could develop into a tornado.
The heavy rain the storm is dumping across the region brought down a tree on Glen Eden Drive in west Raleigh, which snapped a utility pole in half. Police closed the road to traffic as utility crews moved in to start work on replacing the pole and restoring power to the area.
10:30 a.m.
North Carolina Gov. Roy Cooper has asked North Carolinians to avoid driving through flooded roads on Thursday as widespread rain continues to fall across the central and eastern parts of the state.
"Residents and visitors to North Carolina should keep safety in mind as Tropical Storm Elsa passes through our state today," said Gov. Cooper. "Everyone should stay alert to rapidly changing weather conditions and have a plan should they need to move to another location."
Earlier, there were crashes in Raleigh on Interstate 40 east and I-440 west.
The State Emergency Operations Center in Raleigh is tracking the storm.
10 a.m.
A Hope Mills woman had just spent the first night in her new home when she went to get a cup of coffee on Thursday morning. She returned to find a tree had fallen on her home and a fire truck had arrived.
"I thought the house was on fire," Emmogene Perez told WRAL News reporter Gilbert Baez. "The firemen told me a tree had fallen on a power line."
Fortunately, no one was hurt and the tree did not break through the ceiling of the bathroom. Perez, who said she was originally from North Carolina, had just moved back. Her home still had power.
Parts of southern North Carolina have already seen multiple inches of rain from Elsa, making the ground saturated and thus ripe for trees falling down. Elsa's center was near the state border around 10 a.m.
9:30 a.m.
The Triangle is seeing lots of heavy rain as Elsa moves northward, with the center of the storm expected to come through the Triangle around 2 p.m.
"On the back edge of that, things will really quiet down," WRAL meteorologist Elizabeth Gardner said. "All the action with this is to the east or the north of the center."
We've seen lots of rain to our south. Fayetteville has already seen nearly 1.5 inches of rain from Elsa. Lumberton's rainfall estimate is 3 inches.
"It's pouring there right now," Gardner said of Fayetteville.
9 a.m.
Although much of the viewing area is seeing rain, the heaviest rain is hitting the southern counties right now, including Fayetteville. A tornado watch is still in effect in nine counties. A Flash Flood Watch is still in effect for all of the Triangle.
"This storm is really dumping a lot of heavy rain," Gardner said. "Certainly, there's going to be a lot of places where there's going to be pockets of 3 to 4 [inches] and pockets of 5 which could cause some flooding."
A tornado warning has popped up in Brunswick County, near Wilmington, in eastern North Carolina.
8:30 a.m. update
Many of our eastern counties are now under a Tornado Watch.
The counties added to the watch include Cumberland, Johnston, Harnett, Hoke, Nash, Wilson, Wayne, Sampson and Duplin.
"These brief spins of tornadoes are possible with these tropical systems," WRAL meteorologist Zach Maloch said. "Tornadoes are a concern."
A Flood Advisory was issued for Cumberland, Sampson and Hoke counties until noon.
8 a.m. update
Tropical Storm Elsa's center is about 175 miles southwest of Raleigh as of 8 a.m. and is still moving fast at 18 mph to the northeast. Wind speeds are still at 40 mph. It's raining steadily across the Triangle now.
The heaviest rain in the Triangle will last from about 10 a.m. to 2 p.m., according to Gardner. Elsa should maintain the strength of a weak tropical storm when it gets to central North Carolina. The storm's elements should move out of the Triangle by late afternoon.
The main threats from Elsa continue to be heavy rain, gusty winds and the possibility for tornadoes. Some of Elsa's rain bands have very heavy rain and have already dumped three inches in Robeson County.
A tornado warning was issued for an area near Myrtle Beach earlier.
6:15 a.m. update
A tornado warning was issued for Robeson County until 6:45 a.m.
5 a.m. update
Elsa's winds have decreased in speed to 40 mph. The storm is moving quickly, heading northeast at 18 mph. The eye of the storm is 223 miles southwest of Raleigh.
The system is moving south to north as rain bands are moving into the Sandhills and southeastern North Carolina first. Rain will get into the Triangle in the 6 a.m. hour.
"We like to see these storms moving fast," said Gardner. "The faster they go, the less time they sit and dump heavy rain on us. That means less flooding, less time for there to be wind damage."
2. a.m. (Thursday) update
Elsa's maximum sustained winds remain at 45 mph as the center of the storm is 286 miles southwest of Raleigh. It's moving north at 18 mph. Rain from the system is moving steadily toward North Carolina.
A Flash Flood Watch is in effect for most of the viewing area from 6 a.m. through 6 p.m. Thursday. Elsa is expected to bring gusty winds and rain to the North Carolina/South Carolina border around 6 a.m. Most folks in the Triangle will start seeing rain by mid-morning.
Elsa's eye will move through the Triangle in the early afternoon hours and move out by 6 p.m.
The Triangle should see wind gusts from 30 to 35 mph with 1 to 3 inches of rain possible. Stronger wind gusts are expected along and east of Interstate 95.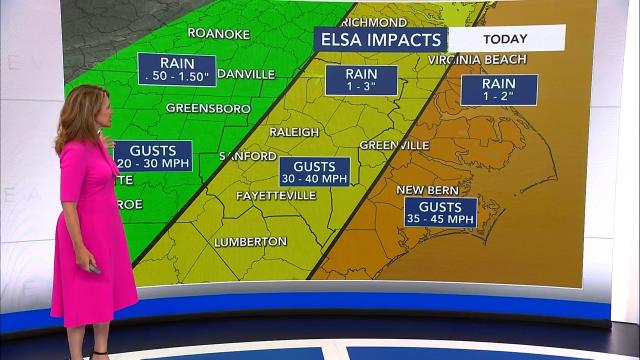 A Tornado Watch is in effect for Bladen, New Hanover, Columbus, Brunswick and Pender counties until 9 a.m.
There were tornadoes in Georgia and South Carolina after Elsa moved through.
11 p.m. (Wednesday) update
Tropical Storm Elsa is sustaining 45 mph winds and is now 329 miles SW of Raleigh. The storm is moving north, northeast at 16 mph.
A Tropical Storm Warning was also issued for parts of the NC coast as the storm creeps closer.
"Elsa remains a tropical storm tonight as it moves through Georgia with 45 mph winds," WRAL meteorologist Kat Campbell said. "The biggest update with the new track is that it is forecast to move through NC as a weak tropical storm (winds 40 mph) instead of a tropical depression."
Campbell added that parts of Georgia and South Carolina are under a tornado watch until 5 a.m. Thursday.
"I wouldn't be surprised if that watch gets extended into parts of eastern NC tomorrow," she said. "We're under a Level 1 risk."
NC residents across the WRAL viewing area made final preparations for Elsa's arrival Wednesday. From Rocky Mount to Wrightsville Beach, residents and visitors are keeping an eye on the storm.
8 p.m. update
Because of the possibility of inclement weather, Durham Public Schools has canceled all summer programs for Thursday.
Tropical Storm Elsa is moving 14 miles per hour over southern Georgia, according to the 8 p.m. update from the National Hurricane Center.
The system, which has maximum sustained of 45 miles per hour, is currently 283 miles southeast of Raleigh.