All eyes on Ida: Hurricane expected to be category 4 when it makes landfall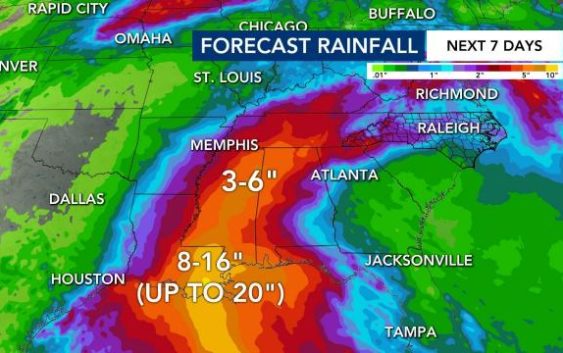 View The
Original Article Here
Currently a category 1, Hurricane Ida is expected to gain strength as it approaches the US. Forecasters predict Ida could be a dangerous and strong category 4 hurricane by the time it makes landfall near Louisiana late Sunday.
That day also marks the 16th anniversary since Hurricane Katrina made landfall in the state.
Ida was rapidly gaining strength as it moved over Cuba — winds increased from 35 mph to 80 mph in less than 24 hours. Ida didn't weaken after hitting Cuba and has re-emerged in the Gulf of Mexico overnight. Over 250 miles wide, it is expected to bring devastating rainfall totals to locations in its path.
"There is nothing holding this system back from rapid intensification," WRAL meteorologist Kat Campbell said.
Parts of Louisiana are expected to get up to 20″ of rainfall. Areas in Alabama and Mississippi are forecast for up to 7″ of rain. Even the North Carolina mountains could get up to 3″ of rain, which could impact communities already cleaning up from flood and mudslide damage created by Fred.
"It's a very serious and life threatening situation there," Campbell said.
Winds are expected to be as strong as 140 miles per hour when Ida arrives on Louisiana's coast. Forecasters say the storm is expected to bring significant inland flooding to the region.
A storm surge of up to 10 to 15 inches is forecasted with 8 to 16 inches of rain. Some localized areas could see as much as 20 inches.
Reports indicate the storm may be strong enough to top multiple levees defending towns and cities in the area. In response, the mayor of New Orleans called for everyone outside the levee system to evacuate before Ida hits Louisiana.
"There's really nothing holding this system back as it approaches the Louisiana coastline," Campbell said.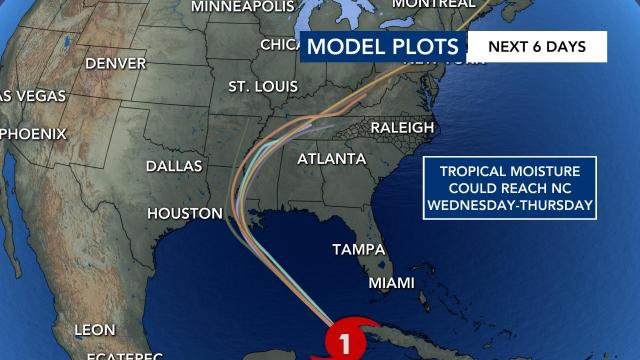 Much of New Orleans is below sea level, which makes it more vulnerable to flooding. Two levee systems hold the city intact, but strong storm surge and flooding could threaten that.
Ten to 15 feet of storm surge and 8 to 10 inches of rain is expected to hit the coast, Campbell said. In some areas, 20 inches of rain will be possible.
Inland flooding is also going to be a concern for Louisiana, Mississippi, Alabama and Tennessee — a state already dealing with devastating flooding.
"Unfortunately, all of Louisiana's coastline is currently in the forecast cone for Tropical Storm Ida, which is strengthening and could come ashore in Louisiana as a major hurricane as Gulf conditions are conducive for rapid intensification," Gov. John Bel Edwards said.
"By Saturday evening, everyone should be in the location where they intend to ride out the storm.," the governor added.
In addition, President Biden issued a State of Emergency in advance of Ida's expected impact on Friday.
A hurricane watch was in effect for Cameron, Louisiana, to the Mississippi-Alabama border — including Lake Pontchartrain, Lake Maurepas and metropolitan New Orleans.
Ida will be the fourth hurricane to make landfall in the state since last August.
Model plots show the storm could take a right turn and head toward North Carolina. Our state could get rain from Ida on Wednesday and Thursday, but impacts are not expected to be severe.
Central North Carolina can expect one to two inches of rain, and Western North Carolina could see somewhere near 3 inches of rain.
Tropical moisture could interact with a boundary that's up in Virginia, WRAL meteorologist Elizabeth Gardner said. Ida could affect communities in the mountains near Asheville and the northern part of the WRAL viewing area.
Two other systems are unlikely to affect the U.S. as they curve around an large area of high pressure centered in the far eastern Atlantic. ​
The peak of the Atlantic hurricane season is Sept. 10. Historically, mid-August through October is the most active period of the Atlantic season.