As Elsa nears landfall in Florida, North Carolina officials prepare for system to pass through as tropical storm
View The
Original Article Here
Elsa has returned to tropical storm status and is forecast to be a tropical storm as it passes through North Carolina, according to the 2 a.m. update from the National Hurricane Center.
The National Weather Service has also issued a Tropical Storm Watch for North Carolina's coastal waters until further notice, as Elsa nears Florida. Swells of 5 to 8 feet are possible, along with tropical storm force winds.
As the tropical storm watch remains in place, the rip current threat will also be high to moderate along the North Carolina coast on Wednesday.
Tuesday night, Elsa gained enough strength over the open water of the Gulf of Mexico to become a Category 1 hurricane. The latest update showed the storm had maximum sustained winds of 70 mph, bumping it back down to tropical storm level.
Elsa was moving north at 14 mph on a track that would take it over parts of Florida. Tropical storm watches and warnings and some tornado warnings were issued along Florida's west coast. Tropical storm watches are issued for the coast of South Carolina.
The latest update from NHC showed that Elsa is expected to make landfall north of Tampa early Wednesday morning.
Elsa will pick up pace and weaken as it moves further onto land across the southeast corner of Georgia and through South Carolina and North Carolina.
By Thursday morning, rain from Elsa arrives in the southern counties of central North Carolina, including Scotland and Richmond. The storm track brings it across North Carolina just southeast of Raleigh as a tropical storm before an eastward turn takes it back out over the Atlantic Ocean.
The forecast cone shows the storm could cross North Carolina anywhere from the Triad to the coast.
Heavy rain will be widespread across central and eastern North Carolina between 6 a.m. and 4 p.m., with the chance for lighter showers continuing until about 8 p.m.
A Level 1 threat for severe weather is in place for the coastal plain for Thursday.
"We could have some wind gusts up to 35 miles per hour and perhaps some isolated tornadoes as well," said WRAL meteorologist Aimee Wilmoth.
The storm also presents a significant flooding risk, largely east of the Triangle. Most of eastern North Carolina is under a medium risk for flooding.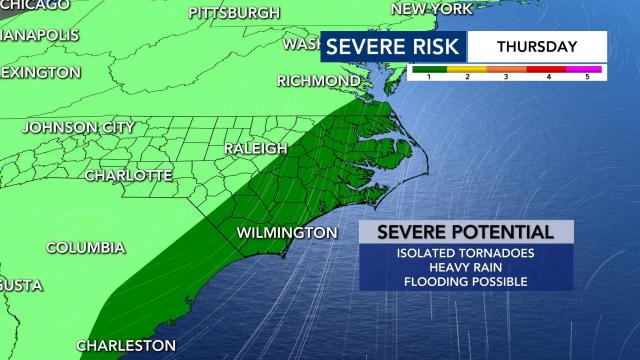 The biggest concern will be flooding with 1 to 3 inches of rain likely, and localized 4 to 5 inches possible. The good news is that river flooding is not expected, according to WRAL meteorologist Kat Campbell.
NC readies for weather emergency
Gov. Roy Cooper activated the state Emergency Operations Center. Although emergency officials aren't expecting real serious impacts from Elsa, it's a good opportunity to get prepared for what could be a long hurricane season.
"This is very early in the hurricane season. It doesn't peak until about September for North Carolina, so we are already telling people, be prepared now," said Barry Porter with the Red Cross of Eastern North Carolina.
Every home should have a handy, watertight storm kit, including batteries, cash, a first aid kit, medications and a flashlight and emergency radio.
Families should also have a plan to meet up should people be separated in storm conditions.
"Know where you're going to go, know where would I evacuate to, how would I make sure that my family members know where I'm going," he said.
Keith Acree, spokesman for the North Carolina Department of Public Safety says they're in contact with local emergency managers, but at this point, they don't think they'll need to open any shelters.
"We always want to be ready for the unexpected. Things do happen. You know, it's not unusual to have tornadoes out of a storm like this, so that's always a possibility in the back of our mind," he said.
Raleigh officials are also preparing for potential flooding, by lowering water levels at Lake Johnson ahead of the heavy rainfall.
The city plans to lower water levels by 1 foot a day to allow room for the lake to fill back up from the storm.
"We're working in the area," said Duke Energy spokesman Jeff Brooks. "We're preparing for possible impacts in central and eastern North Carolina, and we have hundreds of line workers, tree workers that are able to respond."
North Carolina Department of Transportation spokesman Marty Homan said that NCDOT crews are also keeping an eye on the storm to ensure roads are safe.
"We have our crews making sure our chainsaws are working, getting our barricades ready and our 'Road Closed' signs ready so we're ready ro respond," he explained.
Officials advised that if you don't absolutely need to be out or traveling, to stay home and let the storm pass.
"We encourage people not to drive around our barricades. Our saying is, 'Turn around. Don't drown.' It doesn't take a lot of water to wash away a vehicle, and if water is rushing up underneath a bridge – we definitely want people to stay out of harm's way and be safe," said Homan.
"Let our crews do their job," added Brooks. "They're only going to be out if it's safe to do so with the wind that we have. So, if you don't see crews out — we're doing everything we can to get your power back on as quickly and safely as possible."
Elsa also gives North Carolina residents a chance to prepare for what's expected to be a very busy hurricane season, according to Brooks.
"We're here in July. Hurricane season goes all the way to November. We're expecting a very active season, so we do encourage our customers to think about their plans for preparation and be ready, because this probably won't be the last storm we see this year."